The industry-leading partnership between Sumo Logic and ServiceNow enables organizations to radically simplify and optimize the event detection and management process.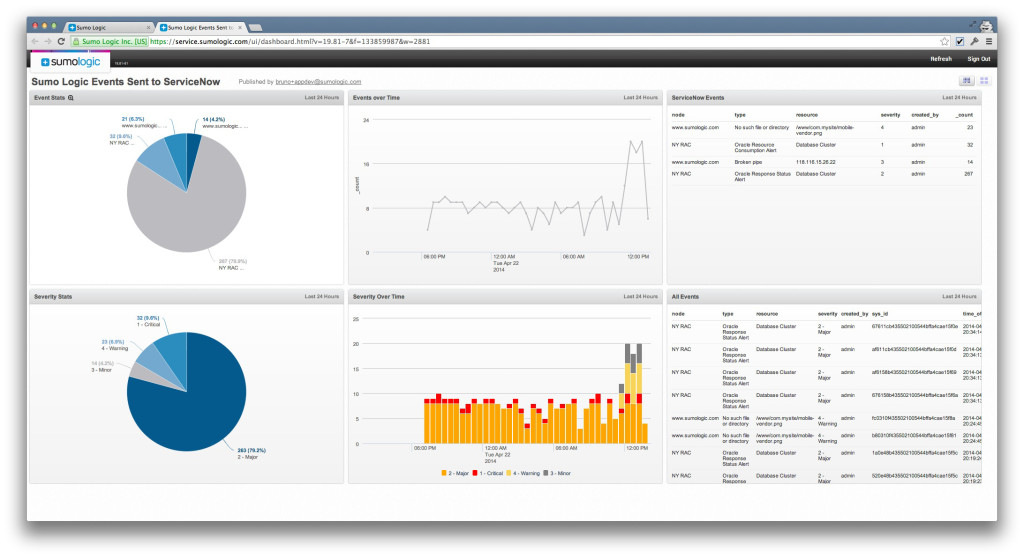 IT organizations in every industry face the fundamental challenge of supporting business productivity goals by keeping internal and external facing infrastructure systems operational. Many organizations deploy ad-hoc processes to remediate issues and threats when they arise, leading to delayed resolution and increased business costs.
Proactively identifying significant events and potential threats hidden in your log files in real-time is the foundation of effective remediation. Disjointed event detection and service management platforms, however effective they may be independently, inevitably lead to delayed resolution and impact service level agreements (SLAs), customer satisfaction and even revenues.
The cloud-to-cloud integration between Sumo Logic and ServiceNow helps IT teams overcome these challenges by delivering a real-time, closed-loop event management solution with the ability to capture knowledge for future reference. The two cloud-based services complement one another and deliver tremendous value to IT, security and service management teams:
Apply consistent and optimized service management processes by streamlining event detection and incident management workflow<
Proactively monitor all business services and infrastructures in real-time for anomalous and known events
Unique bi-directional workflow automatically assigns events as incidents to appropriate teams with the ability to incorporate additional event information for rapid resolution
Use annotation capability and contextual information in Sumo Logic to express future event detection and response time
Streamline all change management, improve security posture, meet SLA's and other business standards
Optimize business productivity and reduce costs associated with security and compliance, system downtime and malfunctioning revenue generating sources