Today kicked off day one of Sumo Logic's second annual user conference, Illuminate, and there was no better way to start the day than with a keynote presentation from our CEO, Ramin Sayar, and some of our most respected and valued customers, Samsung SmartThings and Major League Baseball (MLB).
The event was completely sold out and the buzz and excitement could be felt as customers, industry experts, thought leaders, peers, partners and employees made their way to the main stage.
If you were unable to catch the talk in person or tune in for the Facebook livestream, then read on for the top five highlights from the day one keynote.
#1: Together, We've Cracked the Code to Machine Data
At Sumo Logic, we're experts in all things data. But, to make sure we weren't biased, we partnered with 451 Research earlier this year to better understand how the industry is using machine data to improve overall customer experiences in today's digital world.
We found that 60 percent of enterprises are using machine data analytics using for business and customer insights, and to help support digital initiatives, usage and app performance.
These unique findings have validated what we've been seeing within our own customer base over the past eight years — together, we can democratize machine data to make it easily accessible, understandable and beneficial to all teams within an organization.
That's why, as Ramin shared during the keynote, we've committed to hosting more meet-ups and global training and certification sessions, and providing more documentation, videos, Slack channels and other resources for our growing user base — all with the goal of 'lluminating' machine data for the masses, and to help customers win in today's analytics economy.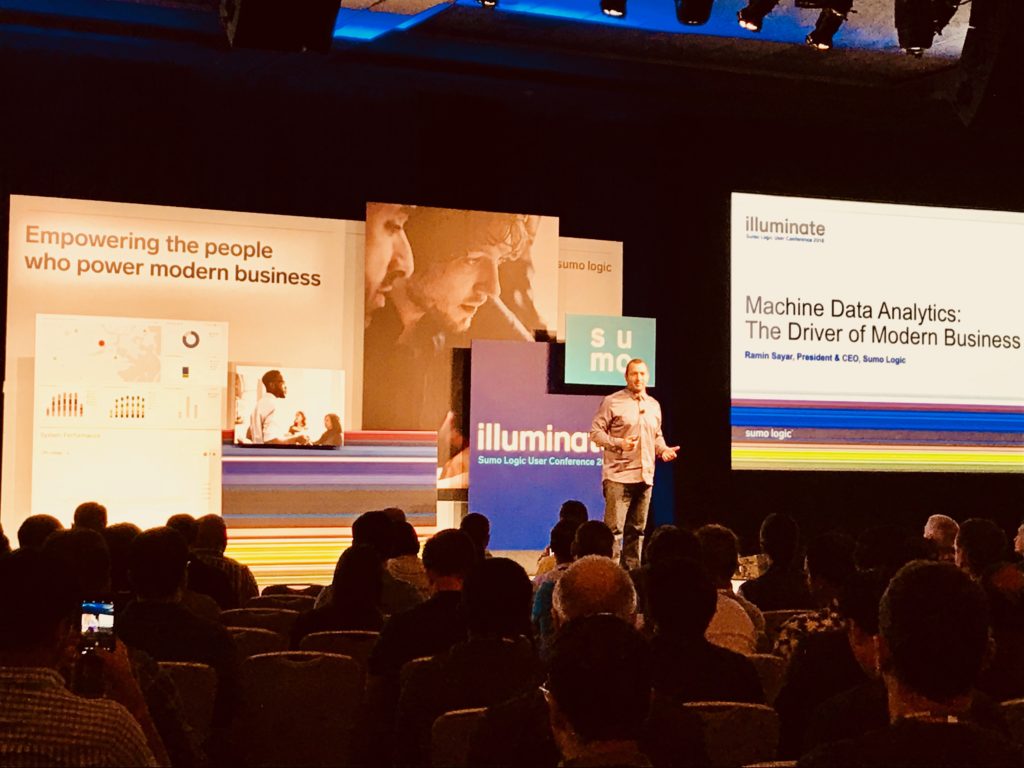 #2: Ask, and You Shall Receive Continued Platform Enhancements
Day one was also a big day for some pretty significant platform enhancements and new solutions centered on three core areas: development, security and operations.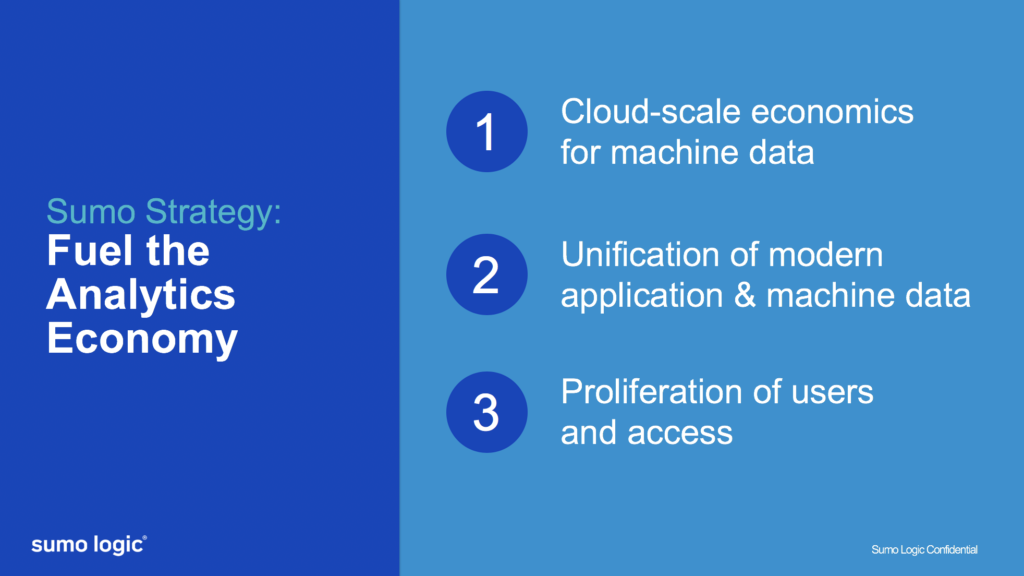 The Sumo Logic dev and engineering teams have been hard at work, and have over 50 significant releases to show for it, all focused on meeting our customer's evolving needs.
Some of the newer releases on the Ops analytics side include Search Templates and Logs to Metrics. Search Templates empower non-technical users like customer support and product management, to leverage Sumo Logic's powerful analytics without learning the query language.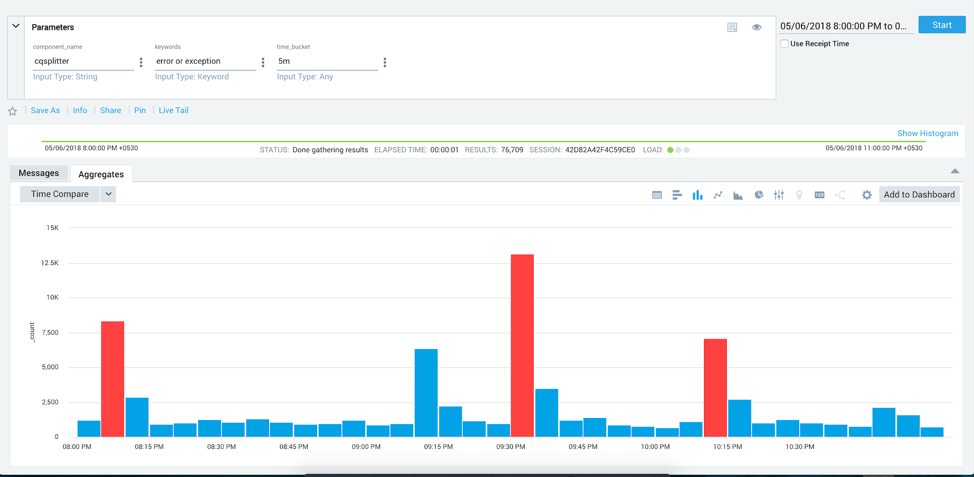 Logs to Metrics allow users to extract business KPIs from logs and cost-effectively convert them to high performance metrics for long-term trending and analysis.
We've been hard at work on the security side of things as well, and are happy to announce the new cloud SIEM solution that's going to take security analytics one step further.
Our customers have been shouting from the rooftop for years that their traditional on-premises SIEM tool and rules-based correlation have let them down, and so they've been stuck straddling the line between old and new.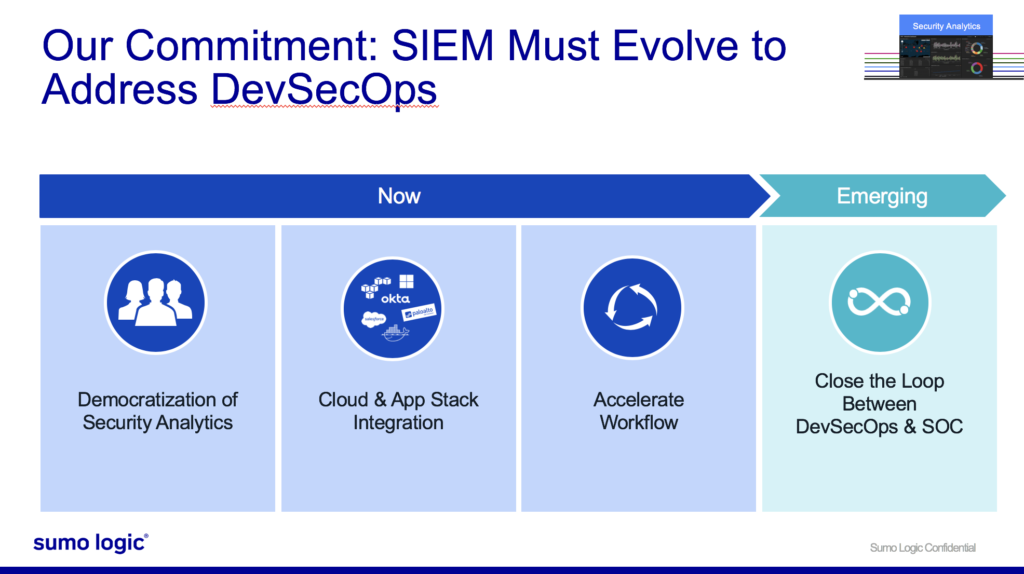 With this entirely new, and first of its kind cloud SIEM solution, customers have a single, unified platform in the cloud, to help them meet their modern security needs. And we're not done yet, there's more to come.
#3: Samsung SmartThings is Changing the World of Connected IoT
Scott Vlaminck, co-founder and VP of engineering at Samsung SmartThings, shared his company's vision for SmartThings to become the definitive platform for all IoT devices, in order to deliver the best possible smart home experience for their customers.

And, as Scott said on stage, Sumo Logic helps make that possible by providing continuous intelligence of all operational, security and business data flowing across the SmartThings IoT platform, which receives about 200,000 requests per second a day!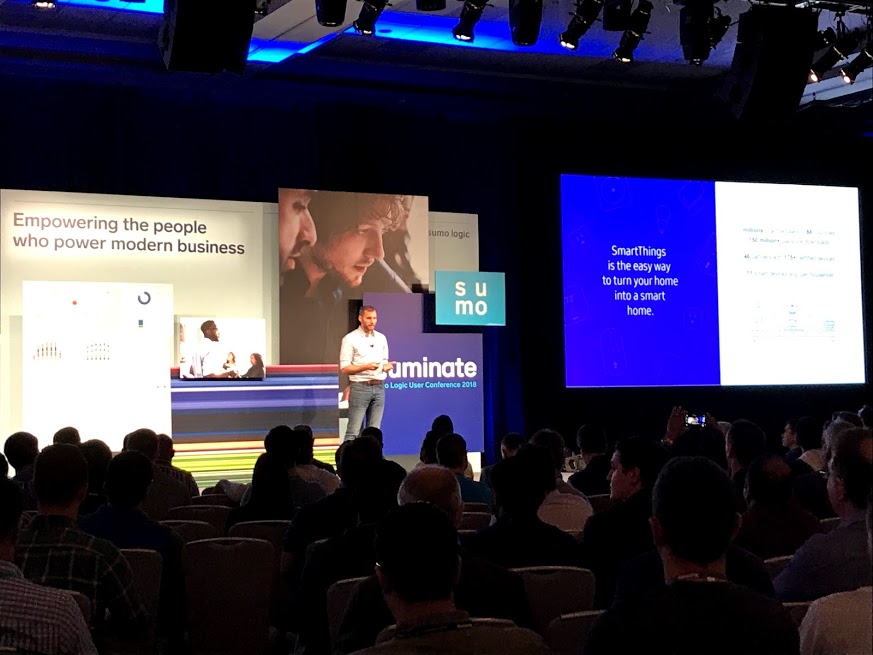 Scott talked about the company's pervasive usage of the Sumo Logic platform, in which 95 percent of employees use Sumo Logic to report on KPIs, customer service, product insights, security metrics and app usage trends, and partner health metrics to drive deeper customer satisfaction. Having a fully integrated tool available to teams outside of traditional IT and DevOps is what continuous intelligence means for SmartThings.
#4: Security is Everyone's Responsibility at MLB
When Neil Boland, the chief information security officer (CISO) for Major Baseball League took the stage, he shared how he and his security team are completely redefining what enterprise security means for a digital-first sports organization that has to manage, maintain and secure over 30 different leagues (which translates to 30 unique brands and 30 different attack vectors). Neil's mission for 2018 is to blow up the traditional SIEM and MSSP models and reinvent them for his company's 100 percent cloud-based initiatives.
Neil's biggest takeaway is that everyone at MLB is on the cybersecurity team, even non-technical groups like the help desk, and this shared responsibility helps strengthen overall security posture and continue to deliver uninterrupted sports entertainment to their fans.
And Sumo Logic has been a force multiplier that helps Neil and his team achieve that collective goal.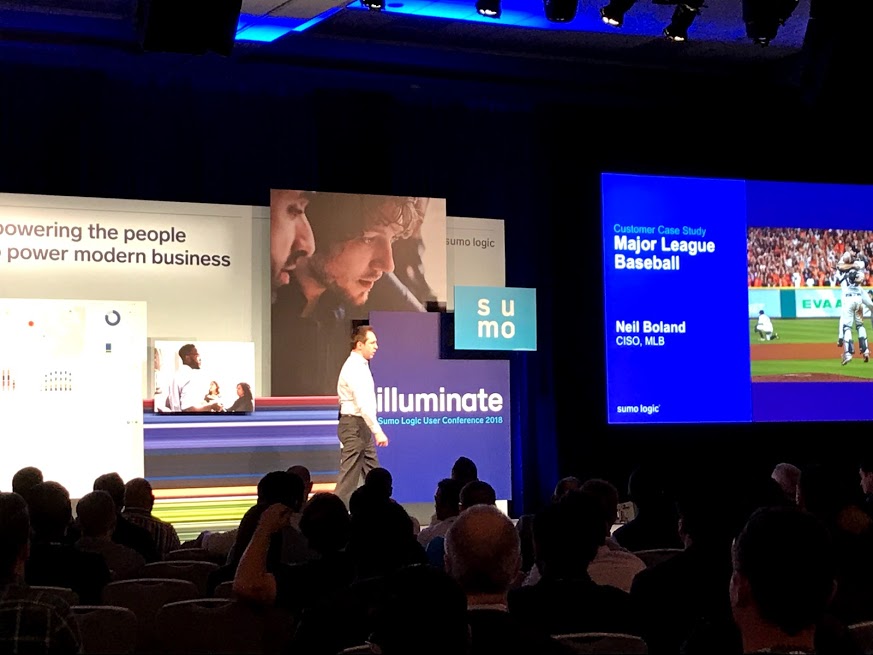 #5: Community, Community, Community
Bringing the talk full circle, Ramin ended the keynote with a word about community, and how we are not only in it for our customers, but we're in it with them, and we want to share data trends, usages, and best practices of the Sumo Logic platform with our ecosystem to provide benchmarking capabilities.
That's why today at Illuminate, we launched a new innovation — Global Intelligence Service — that focused on three key areas: Industry Insights, Community Insights and Data Science Insights.
These insights will help customers extend machine learning and insights to new teams and use cases across the enterprise, and these are only possible with Sumo Logic's cloud-native, multi-tenant architecture.
For data-driven industry insights, check out Sumo Logic's third annual 'State of Modern Applications and DevSecOps in the Cloud' report.
You can read about our latest platform innovations in our press release, or check out the cloud SIEM solution and Global Intelligence Service blogs.
Want the Day Two Recap?
If you couldn't join us live for day two of Illuminate, or were unable to catch the Facebook livestream, check out our second day keynote recap blog for the top highlights.