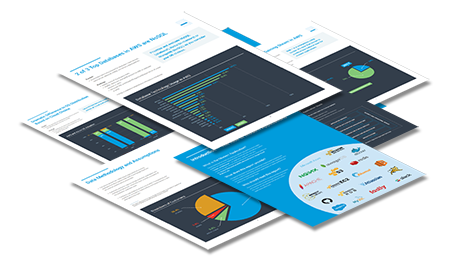 At" class="redactor-autoparser-object">https://www.sumologic.com/blog... our recent
Illuminate
conference, we released the
Sumo Logic State of modern Applications in the Cloud 2017
report. We are very excited about this report and I wanted to provide a few insights into the "why, what, who" for this report.
Why does Sumo Logic produce this report?
We have all heard about "modern applications" – an application stack with new tiers, new technologies that are typically running on cloud platforms like Amazon Web Services (AWS), Microsoft Azure, Google Cloud Platform, etc. – which are designed with the goal of delivering fast time-to-value and incredible scale.
But what exactly is this modern application? The 2017 State of the Modern Apps in the Cloud report provides data-driven insights to shed some light on the what makes up this application stack.
How does Sumo get this data? We anonymously mine active data from more than 1,500 customers using Sumo Logic's machine data analytics platform to manage applications in AWS, Azure, GCP, etc. The result of this analysis is a fairly accurate view of how leading edge customers build, run and manage modern applications.
Didn't Sumo publish a 2016 report? What's changed?
Yes – we did publish our inaugural report in November 2016. Here's what's changed:
Last year's report focused solely on AWS. This report focuses on both AWS and Azure, as we're seeing Azure coming up strong in cloud environments and we are seeing similar traction in our customer base.
We are in 2017 and things change quickly in the cloud world 🙂 This year's report provides year-over-year trends/comparisons in terms of modern app technologies. For example, in this report we identify the dramatic adoption of containers, the growth in serverless technologies etc.
What insights do I get from this report?
Read this report to answer your questions about modern applications, including:
What are my OS choices across cloud platforms?
How many applications use Docker?
Is AWS Lambda ready for prime-time?
What are the common web servers and databases in AWS?
What solutions are used to secure AWS applications?
Who should read this report?
Everyone – Cloud architects, Operations, DevOps and Security leaders and practitioners. If you are even remotely connected to IT today, you know that the cloud changes everything. This report is a roadmap to how the cloud changes everything.
What next?
Keep an eye on our blog. For the next several weeks, we will take a deeper dive into various findings and share our analysis here.
Click here to download your free copy of the modern app in the cloud report.
https://www.sumologic.com/blog... class="at-below-post-recommended addthis_tool">