Last" class="redactor-autoparser-object">https://www.sumologic.com/blog... week we announced how Atchik uses Sumo Logic and our ability to easily analyze machine data to reshape its customer service function. In fact, there are a variety of ways in which customer service organizations can become best friends with your log management infrastructure to improve your customers' perception of your product or service. Specifically, companies can use a log management service to:

Pinpoint exactly what the customer did during the course of a transaction or interaction with an application or service, as opposed to relying purely on email threads or phone logs. This root cause analysis can help in understanding bottlenecks that the customer complained about and, just as importantly, provide guidance to the development team on how customers are using the product or service. Actually it's a great reason for the app development teams to use the service as well, but that's the subject of another post.
Easily correlate that application activity with the impact on other infrastructure elements that affect the consumer experience. Unfortunately, many companies today only focus on a single application view of the customer experience when, given how integrated applications and services are today, it's critical to get a full picture of all the different ways in which the customer is affected.
Proactively address potential customer-facing issues *before* they hit by receiving real-time alerts when application anomalies are diagnosed by the log management solution
Create customer dashboards and reports that provide real-time insights into the customer activity you care most about tracking
We use Sumo Logic internally to support every function in the organization from application development to QA to customer service and even marketing. Our co-founder and VP of Engineering, Kumar Saurabh, is hosting a webinar on March 26th to talk about "Sumo and Sumo". We invite you to attend.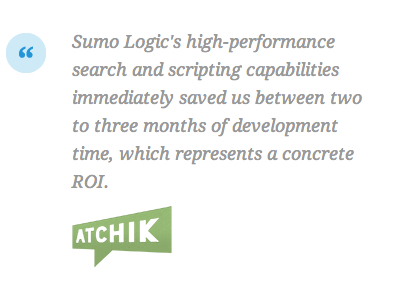 https://www.sumologic.com/blog... class="at-below-post-recommended addthis_tool">