The Release: New AWS Setup Wizard
A new first-time Setup Wizard for our AWS users is now available, so that setting up AWS data is incredibly simple in Sumo Logic.
The Problem: Time to Productivity
We want our users to be productive as soon as possible. The new streamlined setup wizard enables our first-time users to dive right into Sumo Logic without spending too much time setting it up.
The Goal: Intuitive, Simple, Powerful
Improving the user experience has been a crucial part of this initiative. We aimed to deliver a new user interface that doesn't require users to understand too much about how Sumo Logic data collection works. We were also careful not to solve a problem users don't care about or introduce unnecessary features.
The UX Philosophy: Clean and Straightforward
Rebecca Sorensen, our designer, shared the philosophy behind this new design:
Tell our readers about your role at Sumo Logic.
I'm a Visual Designer on our UX team. Much of what I do focuses on the way things look, but we try to make sure are roles aren't too siloed. I participated in all aspects of this project, from UX research to interaction design.
How would you describe our design culture?
Our UX team, like the company, is rapidly growing. And with this growing team, our goal is to foster a culture of openness and collaboration, which we're achieving by getting constant feedback on our ideas from each other and across other teams as well. Starting this dialogue has really helped us to increase visibility at the company. Now everyone from Sales to Backend Engineering can get excited about important changes that are coming to the product and contribute to making excellent user experience a priority at Sumo Logic.
What tools do you use in your design process?
Rapid iteration is really important to me so I'll use whatever tool is fastest to get my point across. Axure has been great for turning wireframes into clickable lo-fi prototypes that were easy to share with stakeholders early in the process. Once we're ready to transition to high fidelity mockups, I generally design the screens in Sketch, which is a newer tool built especially for UI design. Then I might import the mockups into Invision where users can play around with a more realistic-feeling prototype. I like to test out certain components in HTML and CSS to get a better feel for things like hover states and animations before passing the designs onto our front-end developers for implementation.
What was your thought process behind this design?
I knew the design had to be clean and straightforward, since the data setup process is so technical. Helping the user accomplish their goal was first and foremost, so in many ways the design had to take a back seat to making sure the page was uncomplicated and intuitive. In terms of visual design, I was inspired by Google's Material Design's use of bold color and large-scale typography. Establishing a consistent hierarchy was also a critical part of the design being successful.
What can Sumo Logic users look forward to this year in terms of design?
A lot! Our focus will be shifting in a big way this year to building interfaces that look polished but are also incredibly thoughtful and intuitive. We already have an powerful product – our next challenge is to make sure the UI can hold up. We'll start by unifying our design language and bringing a consistent look and feel to all areas of the application, then extend this language to new features and functionality. Providing the user with tools that help them get their work done better and faster will be central to everything we do.
Thanks Rebecca, great work!
The Method: Ask, Think, Repeat
The diagram below depicts our method. We gathered user feedback at multiple points during the planning and development cycle to test that our understanding of the problem matched our users' thinking and rationale. We observed what users did and thought as they interacted with each version of the design This helped us quickly discover what worked and what didn't to iterate through another cycle.
Before development started, we hosted a round of tests with internal stakeholders using lo-fi wireframes without any backend functionality. Testing in this fashion provided a simple and quick way to determine if the design would actually solve problems; it was something tangible with which the user could interact that could also be easily updated and modified.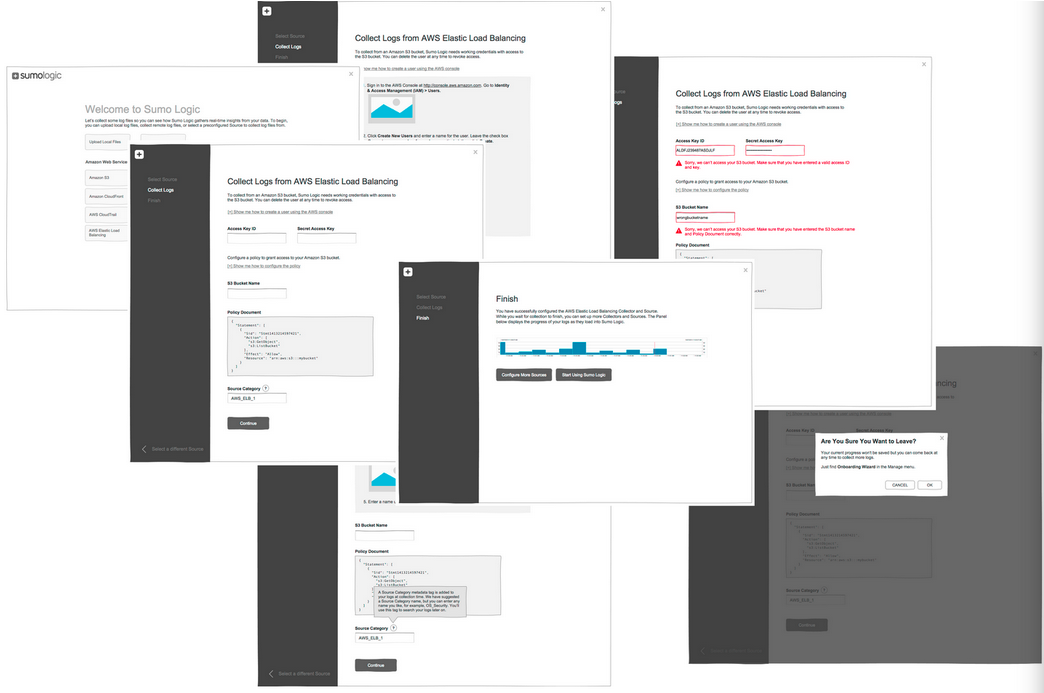 Once we were happy with the direction, development started. We continued testing using hi-fidelity mockups; at this point realistic prototypes were required to get the next level of feedback. We improved the design without impacting the overall direction throughout the development cycle as we planned our sprints.
The fun part began once development was ready for user testing. I recruited both existing customers as well as prospects without prior knowledge of Sumo Logic, but with experience using other log analytics services. We had eight user sessions over two weeks; some of the user tests took place at Sumo Logic HQ, while others were remote. Observing the users while they worked through a series of scripted tasks to set up their AWS source gave us terrific insight into what worked, what didn't, and why.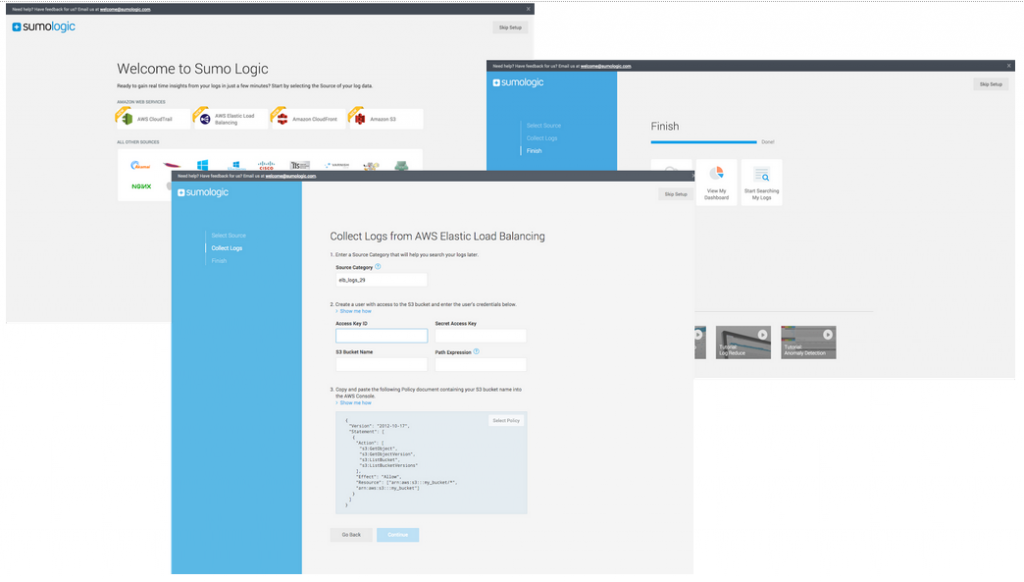 Our team operated on a rapid development cycle: directly after each user test, we reviewed the feedback, decided what changes to incorporate, made those changes to the code, and were able to re-deploy new code before the next user test. This fast iteration allowed us to collect and incorporate a great deal of user feedback, without the delay of traditional lab testing.
As a Product Manager, I loved being able to share user feedback live with the team, because having actual data short circuited debates over whether a feature made sense to users. As soon as the team saw what the users saw, everyone knew what issues needed to be fixed.
Next Steps: More Flows, More Feedback
Usability testing is effective but traditionally time consuming. Our goal this year is to come up with a faster, easier, and more efficient process that compliments our agile development cycle in order to understand what we can do to improve our user experience. This new first-time Setup Wizard will be one of the many releases that primarily focuses on improving Sumo Logic's user experience. Our goal is to extend this kind of simplicity, power, and flexibility throughout our user interface to enable our users to solve a wide range of problems.
For this release I plan to collect metrics for a couple of weeks as users interact with it organically, to see if this new workflow is as effective as we hope.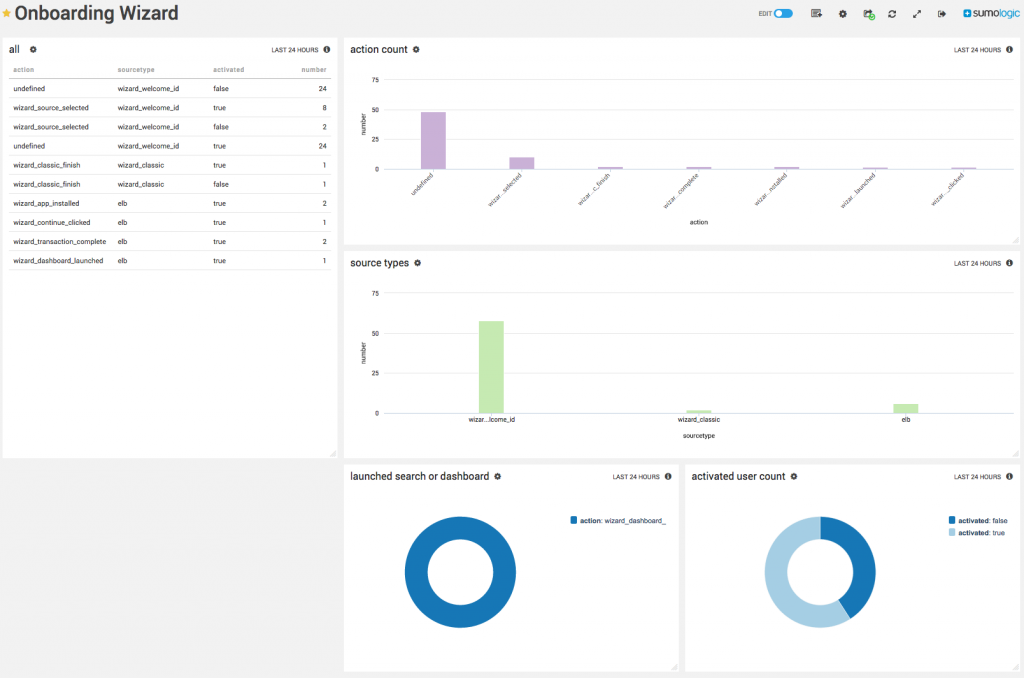 Finally, I want to hear from you. If you've tried our new Setup Wizard, please let me know what worked for you and what didn't. And let me know if you'd like to see a preview of the next iteration. I'd love your feedback.
If you haven't signed up for Sumo Logic yet, sign up for a free trial to try it out now!