The Cloud Advantage
Sumo Logic enables enterprises to build analytical power that transforms daily operations into intelligent business decisions. Unlike traditional, cumbersome and reactive solutions, Sumo Logic offers customers an effortless service with unparalleled scalability, best economics and industry-leading proactive intelligence. Seamless cloud-to-cloud integrations simplify setup and deliver business and operational insights within minutes.
The service is secure by design and employs best-in-class measures to protect customer data such as encryption at rest and in transit and holds various attestations including SOC 2 Type 2, HIPAA, PCI, FIPS-140 and U.S. – E.U. Safe Harbor framework.
Your Data Streams: Complex and Unpredictable

1 /

Your Data Streams: Complex and Unpredictable

2 /

Your Analytics Solution...

3 /

Overcome These Limitations

4 /

But...

5 /

Experience the Power of an Enterprise-Class, Multi Tenant Solution

6 /

Experience the Power of an Enterprise-Class, Multi Tenant Solution

7 /

Experience the Power of an Enterprise-Class, Multi Tenant Solution

8 /

Secure by Design

9 /

Enterprise Class SaaS for your Dynamic Business Needs

10 /
Collect and Centralize
The Sumo Logic™ service can effortlessly collect terabytes of data from any app, cloud, device, custom hardware, sensor, server and network sources. Lightweight collectors replace traditional complex setups and effortlessly collect, compress, cache and encrypt the data for secure transfer. Centralized logging eliminates the need for additional archiving, backups and restores. Data can be pre-parsed and partitioned on ingest. A wide range of collector and search API's also helps administrators easily develop and integrate data sources with the Sumo Logic service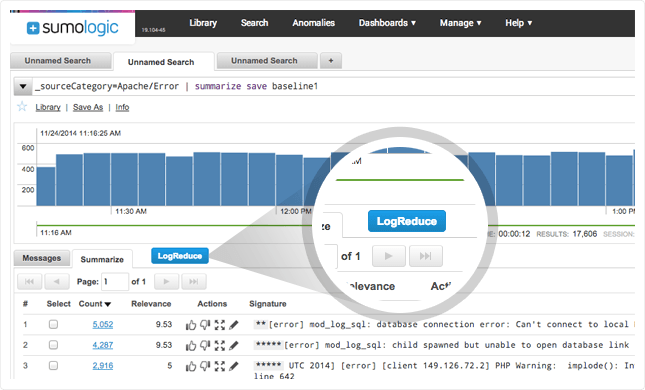 Search and Analyze
Administrators can run searches and correlate events in real-time across the entire application stack using an easy-to-use search engine-like syntax. The patent-pending LogReduce™ technology reduces hundreds of thousands of log events into groups of patterns. By filtering out the noise in your data, LogReduce can help reduce the Mean Time to Identification of issues by 50% or more.
The Transaction Analytics capability automates processes for collection and analysis of transactional context to decrease time associated with compiling and applying intelligence across your distributed systems.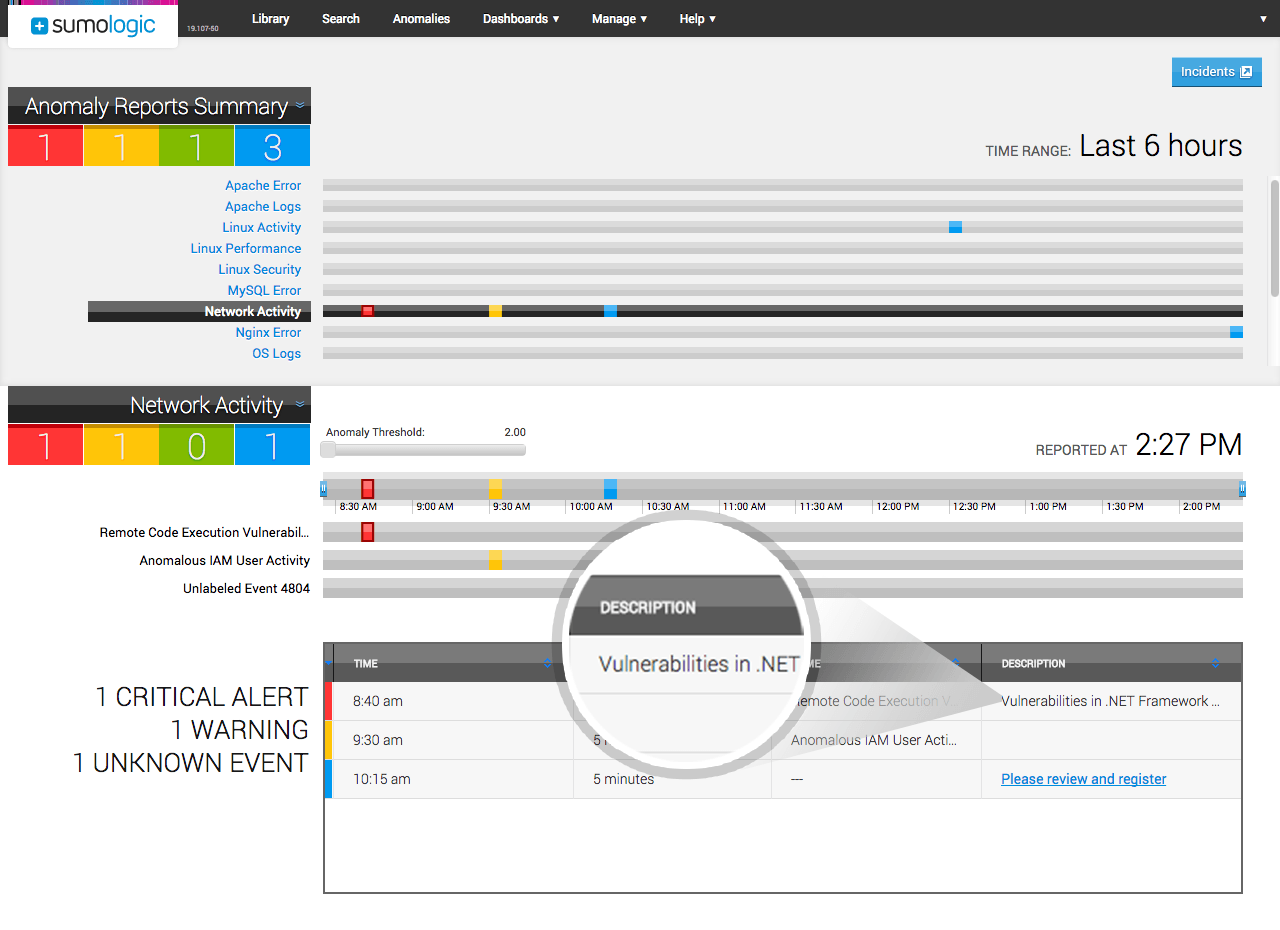 Detect and Predict
When rules are not enough, the Anomaly Detection technology powered by machine-learning algorithms detects deviations to uncover the unknowns in your data. Outlier Detection also powered by a unique algorithm, analyzes thousands of data streams with a single query, determine baselines and identify outliers in real-time. Purpose-built visualization highlights abnormal behaviors giving Operations and Security teams visibility into critical KPIs (Key Performance Indicators) for troubleshooting and remediation. Users can annotate and add contextual information to enrich and train the algorithm and further reduce the mean time to resolution of future events.
The Predictive Analytics capability extends and complements Anomaly and Outlier Detection by predicting future KPI violations and abnormal behaviors through a linear projection model. The ability to observe violations that may occur in the future helps teams address issues before they impact their business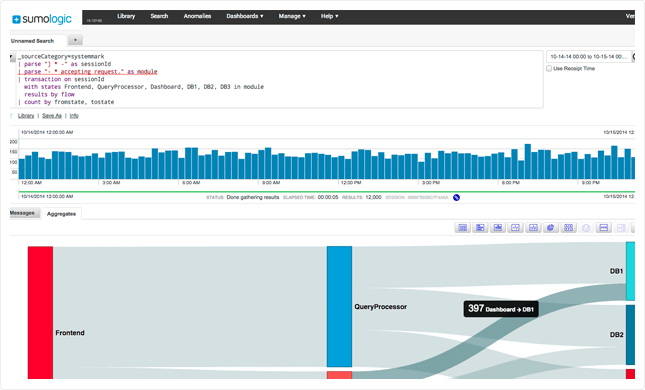 Monitor and Visualize
Custom dashboards and brilliant visualization help you easily monitor your data in real-time. The dashboards, available in light or dark themes, contain a collection of real-time monitors and unify all data streams so you can keep an eye on events that matter. Charting capabilities such as bar, pie line, map and combo charts help meet specific use cases.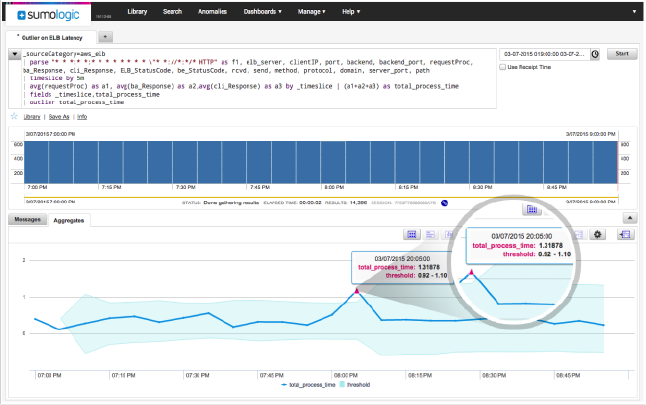 Alert and Notify
Custom alerts proactively notify you when specific events and outliers are identified across your data streams. The patent-pending Push Analytics™ Analytics technology leverages LogReduce to establish a baseline of application, system, and infrastructure activity. Proactive notifications are generated when your data deviates from calculated baselines or exceed thresholds to help you address potential issues promptly.