Back to blog results
June 12, 2018 By Ramin Sayar
The Sumo Logic Advantage for the Analytics Economy
I continue to be intrigued by the evolution of software architectures and their impact on business. In my 20+ year career, I've participated in four of these architecture transitions – the shift from client-server to the internet, the rise of 3-tier architectures underpinning rich internet applications, virtualization that upended the dominance of hardware providers, and now the shift to microservices-based architectures based on cloud infrastructure and software automation.
Complexity of Adopting Modern Applications
Fundamentally, the rise of each phase was a means for companies to break free from the limitations of the previous phase to increase business capabilities, improve efficiencies, move faster and more flexibly, and ultimately, reach more customers and markets. Bottom line: it was a means to increase business speed and agility at scale, a never-ending race that I believe will fuel digital business' speed of innovation for the foreseeable future.
Ironically, with the benefits of each new phase came a consistent drawback that we continue to experience today: growing complexity and risk. The rise of distributed computing over the last twenty years simply means as components have gotten smaller, application scale has grown larger, a point I discussed in my Illuminate keynote last September, Sumo Logic's annual user conference.
We recognized eight years ago that the shift to cloud, agile software practices, microservices and automation would create an unprecedented level of data complexity and risk that would be humanly impossible to address manually with legacy analytics or data warehouse tools built for previous architecture phases.
New World, New Analytics Solution
In this new cloud computing/software automation transition, the value of analytics solutions would shift from collecting data and mining it later, to what could be mined as it's being collected – insights from analyzing machine data streams in real-time. And if this type of solution could be delivered as a cloud-native service, then digital companies could consume and act upon insights faster, without the management headaches of yet another on-premises, enterprise application. Finally, insights from real-time machine data analytics would now align to the speed and agility requirements of modern, digital companies to drive new, disruptive customer experiences.
So, that has been our maniacal focus: to build a cloud-native, machine data analytics platform, delivered as a service, providing real-time operations, security and business insights for people building, running and securing modern applications. Modern applications are transforming the classic "IT stack" to a modern application stack we've identified through our own, proprietary meta data research, called the Modern App Report. Among these technologies are containers and serverless technologies, such as Docker and AWS Lambda, that are growing fast, and orchestration technology, like Kubernetes that's not far behind.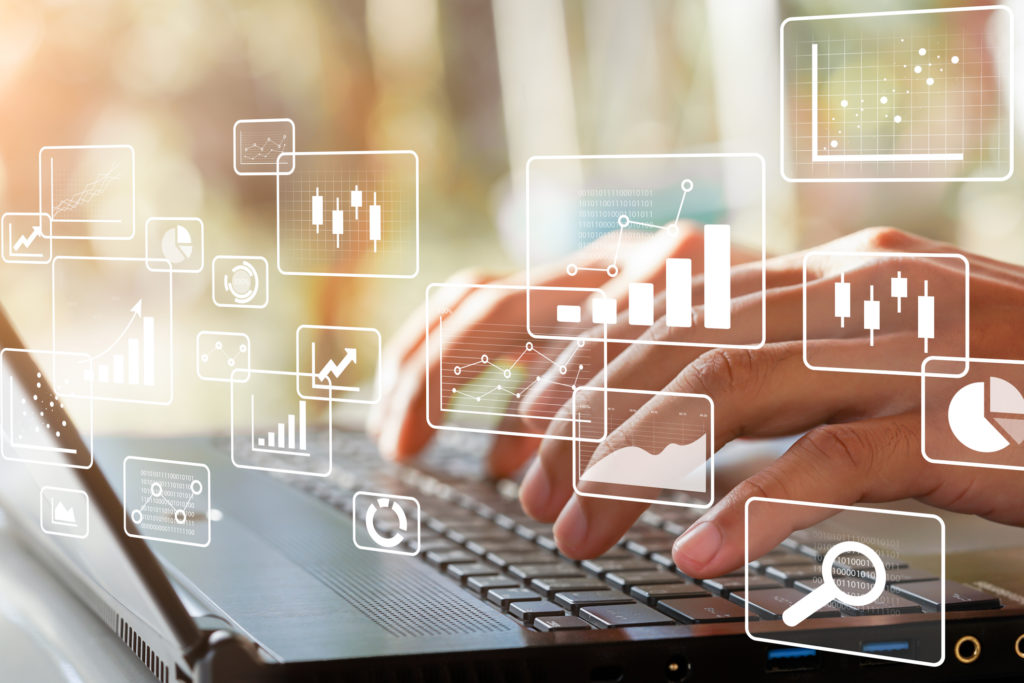 Thus, today we announced significant platform enhancements to make it easier for our customers to automate, manage and gain insights from their microservices-based application architectures, using containers, such as Docker, and orchestration software, like Kubernetes and Amazon EKS. With these improvements, customers now have an end-to-end, holistic view of their modern applications with new instrumentation, analytics and metadata insights from their machine data to drive faster innovation, deliver better customer experiences and increase decision-making across the organization.
And, more importantly, all of this value is delivered from one single analytics solution, designed, delivered and consumed as a service.
The Power of Machine Data Analytics
But machine data analytics is doing much more than supporting the operations and security needs of modern applications. As we've seen with our own business, real-time machine data analytics is transforming us into a modern business – that is, a business that's driving faster, relevant decision-making across the entire organization based on the customer and business insights we leverage from a single, real-time, machine data analytics platform.
The ability to consume and act upon real-time analytics, like continuous intelligence for your modern application, will become a source of competitive advantage to companies, especially since the rise of cloud and software automation is creating an even playing field for companies delivering disruptive, digital services on the backbone of powerful and scalable technology. The market outcome will be what I have been referring to as, the Analytics Economy, in which speed-to-insight will determine the difference between average vs. great customer experiences, and thus who gets the bigger slice of the total addressable market pie.
The Customer Experience Imperative
Many digital companies are feeling the pressure of the customer experience imperative, which we believe is fueling the growing reliance on machine data analytics for rich insights into end-user behaviors, product and service usage trends, and business/customer patterns.
To gauge this trend, we commissioned a new study from 451 Research to understand the business value and rate of adoption of machine data analytics for business and customer insights.
What we learned is that this trend is moving faster than we and 451 Research expected, not only in terms of delivering business value, but also its role in democratizing machine data analytics across organizations. For example:
The more software-centric a company is, the more likely it is to:

Have 100+ people who use machine data analytics at least once a week, indicating that software centric companies recognize the value of machine data analytics;
Have line-of-business users integrating machine data with data from BI tools, to gain the visibility they need to drive business KPIs.

More than 30 percent of respondents reported roles outside of IT and security use cases who use machine data analytics include product managers, customer support, data scientists, the CEO and BI analysts;
More than half of the respondents are using machine data analytics for business insights
Over a quarter of them depend on machine data analytics for user/customer behavior analytics that improve marketing and sales performance, and efficient product development.
Lastly, half of the respondents see their use of machine data analytics growing if three key business requirements are addressed: ease of use; incorporation of advanced analytics, such as machine learning; and real-time access to data.
Sumo Logic's Advantage in the Analytics Economy
Sumo Logic's machine data analytics platform meets these requirements already, providing a unique advantage to companies competing in the Analytics Economy.
For example, Samsung SmartThings has over 90 percent of their organization using Sumo Logic for visibility, monitoring, troubleshooting and device/application usage pattern insights to drive customer experience, inform product innovation teams and enable business leaders to track KPIs.
A truly, disruptive financial services company, Oportun, is leveraging Sumo Logic to support a new digital model of providing affordable loans to help people with little to no credit history establish credit and build a better future.
And, 23andMe, the leading consumer genetics and research company, is using Sumo Logic for operations, security and customer service insights to support a customer experience that is rapidly growing in digital offerings — from ancestry and health services, to direct-to-the consumer testing of specific types of cancer risks.
What these examples tell me is that machine data analytics is redefining business intelligence as continuous intelligence for disruptive, software-centric business models.
Complete visibility for DevSecOps
Reduce downtime and move from reactive to proactive monitoring.
Categories
Sumo Logic cloud-native SaaS analytics
Build, run, and secure modern applications and cloud infrastructures.
Start free trial