Are your on-premises analytics and security solutions failing you in today's digital world? Don't have the visibility you need across your full application stack? Unable to effectively monitor, troubleshoot and secure your microservices and multi-cloud architectures? If this sounds like your organization, then be sure to watch this short video explaining why a cloud-native, scalable and elastic machine data analytics platform approach is the right answer for building, running and securing your modern applications and cloud infrastructures.
To learn more about how Sumo Logic is uniquely positioned to offer development, security and operations (DevSecOps) teams the right tools for their cloud environments, watch our Miles Ahead in the Cloud and DevOps Redemption videos, visit our website or sign up for Sumo Logic for free here.
---
Video Transcription
You've decided to run your business in the cloud. You chose this to leverage all the benefits the cloud enables – speed to rapidly scale your business; elasticity to handle the buying cycles of your customers; and the ability to offload data center management headaches to someone else so you can focus your time, energy and innovation on building a great customer experience.
So, when you need insights into your app to monitor, troubleshoot or learn more about your customers, why would you choose a solution that doesn't work the same way?
Why would you manage your app with a tool that locks you into a peak support contract, one that's not designed to handle the unpredictability of your data?
Sumo Logic is a cloud-native, multi-tenant service that lets you monitor, troubleshoot, and secure your application with the same standards of scalability, elasticity and security you hold yourself to.
Sumo Logic is built on a modern app stack for modern app stacks.
Its scalable………….elastic…………resilient cloud architecture has the agility to move as fast as your app moves, quickly scaling up for data volume.
Its advanced analytics based on machine learning are designed to cope with change. So, when that data volume spikes, Sumo Logic is there with the capacity and the answers you need.
Sumo Logic is built with security as a 1st principle. That means security is baked in at the code level, and that the platform has the credentials and attestations you need to manage compliance for your industry.
Sumo Logic's security analytics and integrated threat intelligence also help you detect threats and breaches faster, with no additional costs.
Sumo Logic delivers all this value in a single platform solution. No more swivel chair analytics to slow you down or impede your decision-making. You have one place to see and correlate the continuum of operations, security and customer experience analytics – this is what we call continuous intelligence for modern apps.
So, don't try to support your cloud app with a tool that was designed for the old, on-premise world, or a pretend cloud-tool.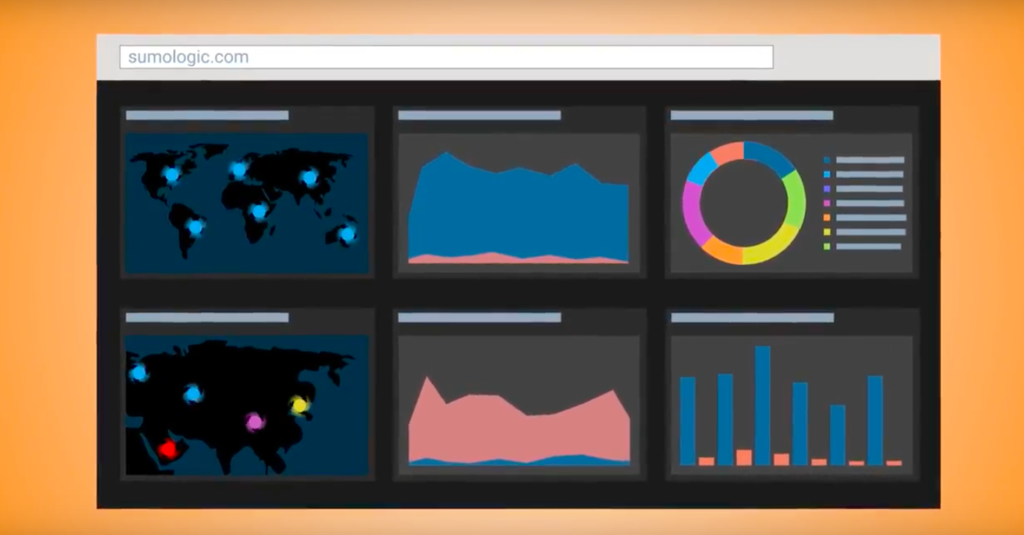 Leverage the intelligence solution that fully replicates what you're doing with your own cloud-business — Sumo Logic, the industry leading, cloud-native, machine data analytics platform delivered to you as a service.
Sumo Logic. Continuous Intelligence for Modern Applications.