Security intelligence for SaaS and AWS Workloads is different than your traditional on-prem environment
Based on Okta's latest Business@Work report, organizations are using between 16-22 SaaS applications in their environment. In the report, Office 365 comes out as the top business applications followed by Box and G suite. These business-critical SaaS applications hold sensitive and valuable company information such as financial data, employee records, and customer data. While everyone understands that SaaS applications provide immediate time-to-value and are increasing in adoption at a faster pace than ever before, what many fail to consider is that these SaaS applications also create a new attack surface that represents substantial risk for the company due to the lack of visibility that security operations teams would typically have with traditional, on-prem applications. If employee credentials are compromised, it creates huge exposure for the company because the attacker is able to access all the applications just like an insider would. In this case, timely detection and containment of an insider threat become extremely important. Sumo Logic's security threat intelligence will allow security operations to address the many challenges related to SaaS and cloud workload security.
There are many challenges for incident management and security operations teams when organizations are using SaaS applications: How do you make sure that users across SaaS applications can be uniquely identified? How can you track anomalies in user behavior?
The first step from the attacker after exploiting the vulnerability is to steal employee's identity and move laterally in the organization. In that process, the attacker's behavior will be considerably different than the normal user's behavior. Second, it is critical that the entire incident response and management processes are automated for detection and containment of such attacks to minimize potential damage or data leakage.
Most organizations moving to the cloud have legacy solutions such as Active Directory and on-prem SIEM solutions. While traditional SIEM products can integrate with Okta, they cannot integrate effectively with other SaaS applications to provide complete visibility into user activities. Considering there are no collectors to install to get logs from SaaS applications, traditional SIEM vendors will not be able to provide the required insight into the modern SaaS application and AWS workloads.
In order to solve for these specific problems, Okta and Sumo Logic have partnered to provide better visibility and faster detection of insider threats. Okta ensures that every user is uniquely identified across multiple SaaS applications. Sumo Logic can ingest those authentication logs from Okta and be able to correlate with the user activities across multiple SaaS applications such as Salesforce, Box, and Office 365.
Sumo Logic has machine learning operators such as multi-dimensional Outlier, LogReduce, and LogCompare to quickly surface the anomaly in the user activities by correlating identity from Okta with the user activities in Salesforce and Office 365.
Once the abnormal activities have been identified, Sumo Logic can take multiple actions such as sending Slack message, creating ServiceNow tickets or disabling the user in Okta or triggering actions within a customer's automation platform.
The use case: Okta + Sumo Logic = accurate incident response for cloud workloads and SaaS applications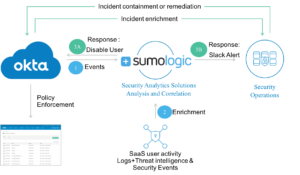 `
How many times have you fat fingered your password and got the authentication failure? Don't answer it. Authentication failure is a part of life. You cannot launch an investigation every time there is an authentication failure. That would result in too many false positives and an overload of wasted effort for your security operations team.
Okta and Sumo Logic allows you to detect multiple authentication failures followed by a successful authentication. It is good enough to launch an investigation at this point, but we all know it could also be a user error. Caps Lock is on, key board is misbehaving or we might have just changed the password and forgotten!
To ensure that security operations get more intelligent and actionable insights into such events, Sumo Logic can provide additional context by correlating such authentication failure logs from Okta with user activity across multiple SaaS application. For example, I changed my password and now I am getting authentication failure within Okta. After that I realized the mistake and corrected it, I get the successful authentication. I log into the Box application to work on few documents and signed off. Sumo Logic will take this Okta event and correlate with the Box activities. In case the attacker had logged in instead of me, then there will be anomalies in behavior. An attacker might download all documents or make ownership changes to the documents. While this is happening, Sumo Logic will be able to spot these anomalies in near real time and be able to take a variety of automated actions from creating a ServiceNow ticket to disable the user in Okta.
You can start ingesting your Okta logs and correlate with the user activity logs across multiple SaaS applications now. Sign up for your free Sumo Logic trial that never expires!
---
Co-author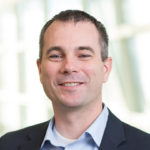 Matt Egan is a Partner Solutions Technical Architect in Business Development at Okta. In this role, he works closely with ISV partners, like Sumo Logic, to develop integrations and joint solutions that increase customer value. Prior to joining Okta, Matt has held roles ranging from Software Development to Information Security over an 18 years career in technology.