The founders of Sumo Logic recognized early on when they founded the company that in order to remain competitive in an increasingly disruptive world, companies would be moving to the cloud to build what are now being called modern apps. Hence, Sumo Logic purposefully architected the Sumo Logic machine data analytics platform from the ground up on Amazon Web Services. Along the way, Sumo Logic has acquired a vast knowledge and expertise in not only log management overlaid with metrics, but in the inner workings of the services offered by Amazon.
Today, more 6 years later, we are pleased to announce that Sumo Logic is one of a handful of initial AWS partners participating in the launch of SaaS Subscription products on Amazon Web Services (AWS) Marketplace, and the immediate availability of the Sumo Logic Platform in AWS Marketplace. Now, customers already using AWS can leverage Sumo Logic's expertise in machine-data analytics to visualize and monitor workloads in real-time, identify issues and expedite root cause analysis to improve operational and security insights across AWS infrastructure and services.
How it Works
AWS Marketplace is an online store that allows AWS customers to procure software and services directly in the marketplace and immediately start using those services. Billing runs through your AWS account, allowing your organization to consolidate billing for all AWS services, SaaS subscriptions and software purchased through the Marketplace.
To get started with Sumo Logic in the AWS Marketplace go to the Sumo Logic page. You should see a screen similar to the following.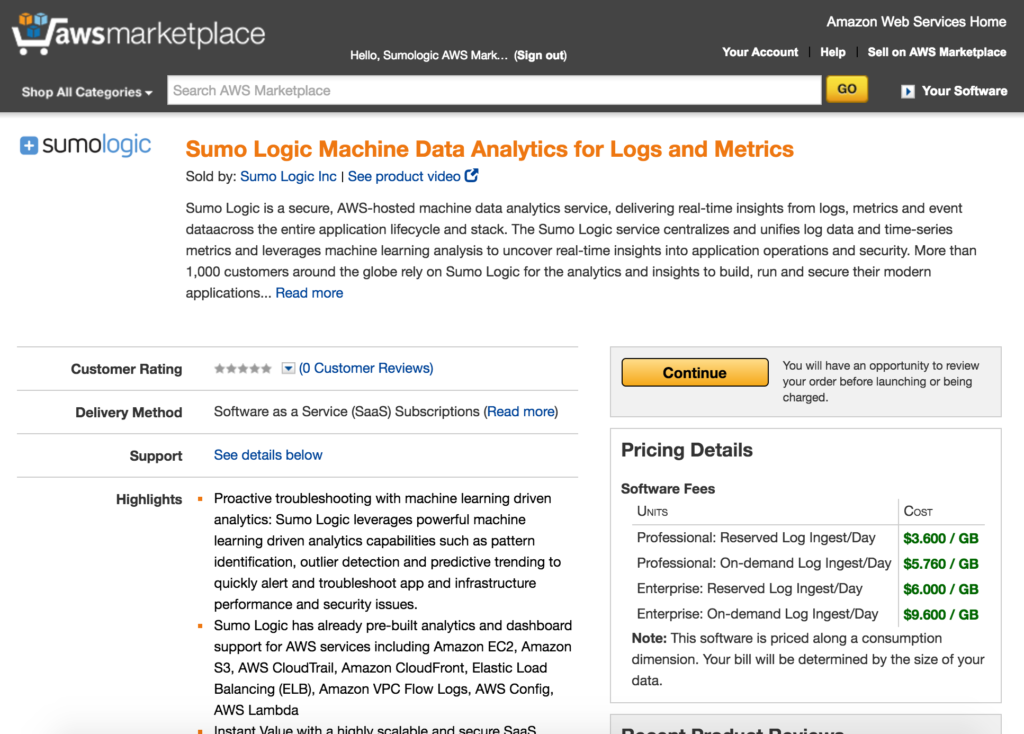 Pricing
As you can see, pricing is clearly marked next to the product description. Pricing is based on several factors starting with which edition of Sumo Logic you're using – Professional or Enterprise. Professional edition supports up to 20 users and 30 days of data retention among other features. Enterprise Edition includes support for 20+ users and multi-year data retention as part of its services. See Sumo Logic Pricing page for more information.
Reserved Log Ingest
Once you've decided which edition, you're ready to select the plan that's best for you based on your anticipated ingest volume. Reserved Log Ingest Volume is the amount of logs you have contracted to send each day to the Sumo Logic service. The Reserve price is how you much you pay for GB of logs ingested each day. During signup, you can select a Reserved capacity in GB's per day (see below). There are no minimum days, and you can cancel at any time.
On-Demand Log Ingest
Bursting is allowed and at the end of the billing cycle, for any usage beyond the total Reserved capacity for the period, you will pay the On-demand rate. Your first 30 days of service usage are FREE.
Signing up
When you click Continue, you'll be taken to the Sumo Logic signup form similar to Figure 2.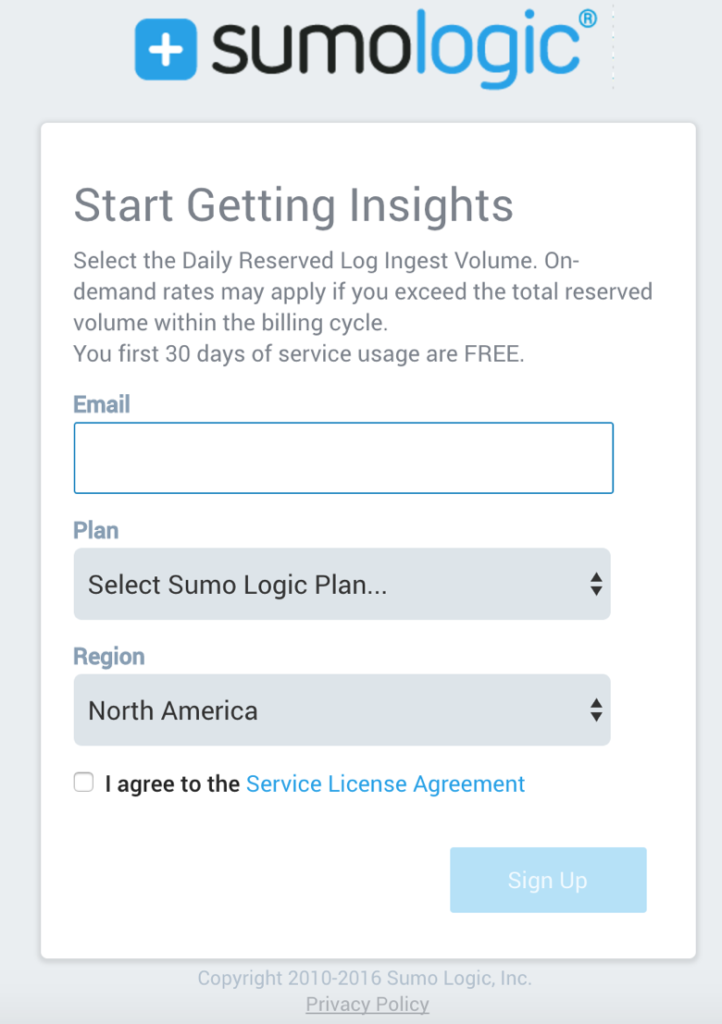 Enter your email address, then click Plan to select your Reserved Log Ingest volume.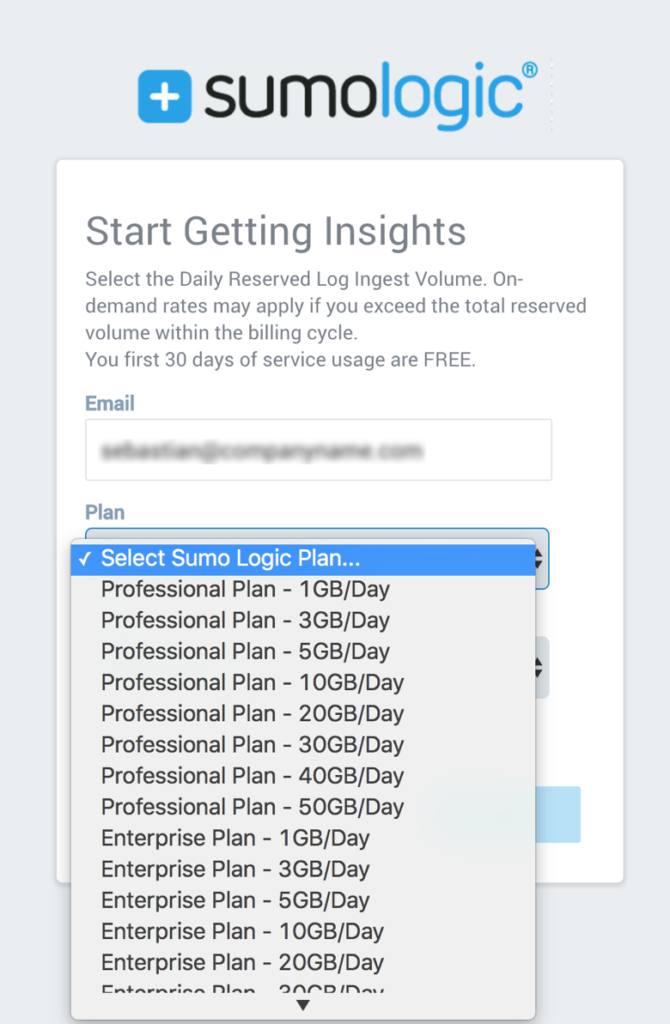 At this point you will select your Reserved capacity. Plans are available for increments of 1, 3, 5, 10, 20, 30, 40 and 50 GB per day. Once you've selected your plan, click the signup button to be taken through the signup process. Recall, billing is managed through AWS so no credit card required.
What You Get
If you're not already familiar with the Sumo Logic, the platform unifies logs, metrics and events, transforming a variety of data types into real-time continuous intelligence across the entire application lifecycle enabling organizations to build, run and secure their modern applications. Highlights of Sumo Logic include:
Machine learning capabilities like LogReduce and LogCompare, machine learning features to quickly identify root cause.
Elasticity and bursting support without over-provisioning
Data encryption at rest, PCI DSS 3.1 with log immutability, and HIPAA compliance at no additional cost.
Zero log infrastructure Management overhead.
Go to sumologic.com for more information
Sumo Logic Apps for AWS
As mentioned, Sumo Logic has tremendous expertise in AWS, and experience building and operating massively multi-tenant, highly distributed cloud systems. Sumo Logic passes that expertise along to its customers in the form of Apps for AWS services. Sumo Logic Apps for AWS contain preconfigured searches and dashboards for the most common use cases, and are designed to accelerate your time to value with Sumo Logic. Using these dashboards and searches you can quickly get an overview of your entire AWS application at the app, system and network levels. You can quickly identify operational issues, drill down using search and apply tools like LogReduce and LogCompare to quickly get at the root cause of the problem. You also gain operational, security and business insight into services that support your app like S3, CloudTrail, VPC Flow and Lambda.
Apps that are generally available include:
In addition, the following Apps are in Preview for Sumo Logic Customers:
Getting Started and Next Steps
Sumo Logic is committed to educating its customers using the deep knowledge and expertise it has gained in working with AWS. If you're new to Amazon Web Services, we've created AWS Hub, a portal dedicated to learning AWS fundamentals. The portal includes 101's to get you started with EC2, S3, ELB, VPC Flow and AWS Lambda. In addition you'll find deep-dive articles and blog posts walking you through many of the AWS service offerings.
Finally, if you're planning to attend AWS re:Invent at the end of November, stop by and get your questions answered, or take a quick tour of Sumo Logic and all machine learning and data analytics has to offer.