Speed application development and deployment in a modern software delivery lifecycle
Real-time, secure access to production data
Empower developers with secure, real-time access to production logs for full-stack visibility and live tailing.
Pattern recognition and anomaly detection
Correlate logs across multiple data sources and lower false positives. Identify errors before and after releases and compare behavior across clusters.
Integrations across the DevOps toolchain
Monitor and troubleshoot across DevOps tools such as GitHub, Docker, Artifactory and Chef–out of the box.
Improve Visibility Across Development and Production Environments
Full Stack Application Visibility–Gather event streams from applications at every stage from sandbox development to final deployment and beyond. Combine with system and infrastructure data to get a complete view of your application and infrastructure stack in real time.
Increased Application Availability and Performance –Identify issues before they impact the application and customer. Precise, proactive analytics quickly uncover hidden root causes across all layers of the application and infrastructure stack.
No Integration Hassle–Ingest machine data from applications, systems, network and tools across the entire continuous delivery pipeline, not just server data.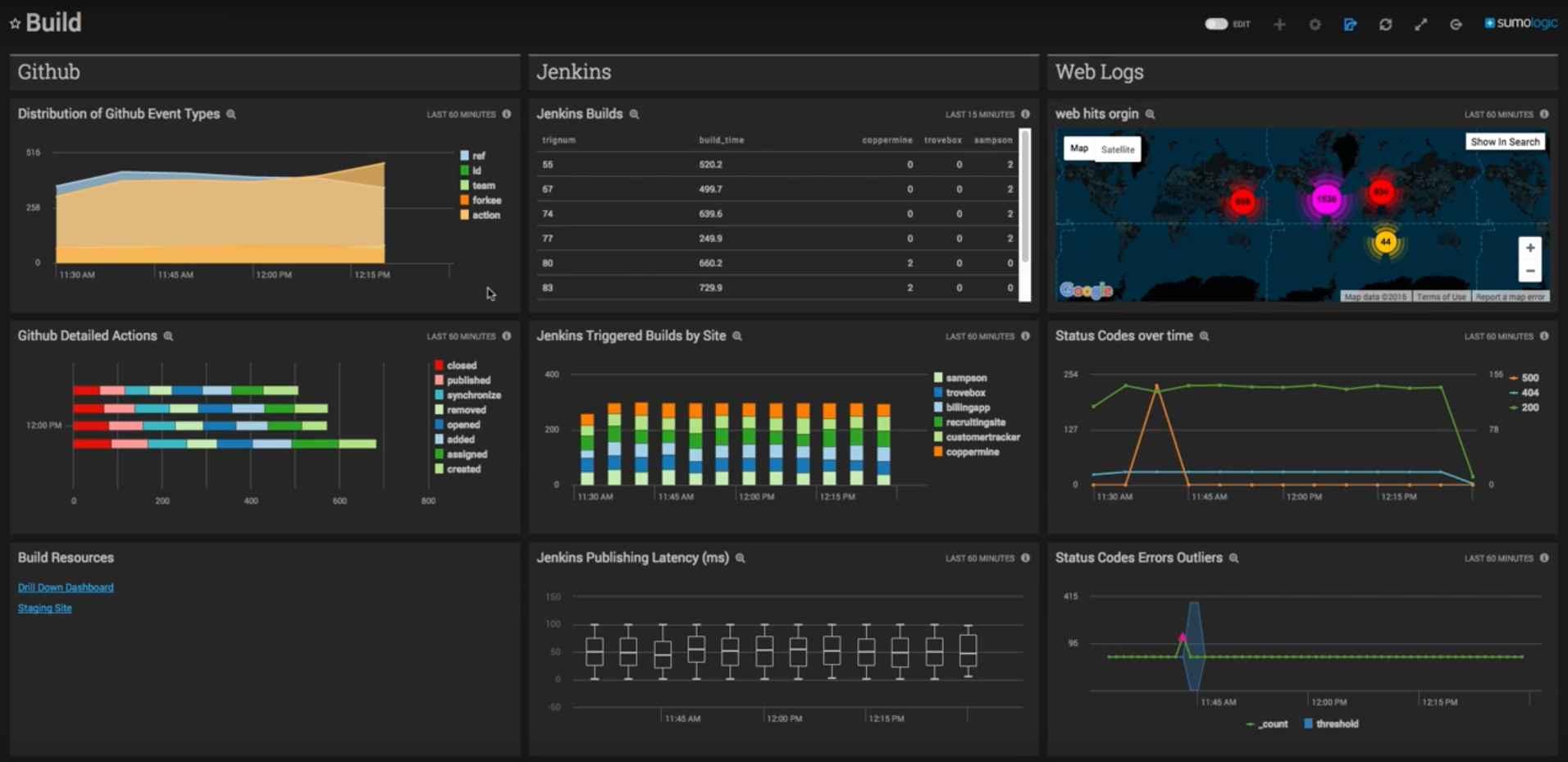 Streamline Continuous Development, Testing and Delivery
Streamline frequent release cycles while improving software quality by monitoring the entire pipeline.
Improve staff efficiency and get a centralized viewpoint that both DevOps and IT Ops can share.
Significantly reduce time developers spend troubleshooting issues in production up to 90% with real-time monitoring of the entire infrastructure including stats, events and container logs.
Analytics Driven Development
End User Satisfaction–Track application performance and identify issues, reduce the number of support tickets and quickly troubleshoot to expedite their remediation. Predictive analytics predicts future KPI violations and abnormal behaviors through a linear projection model before they impact your customers.
Continuous Innovation–Monitor user and system behavior including activity, errors, transactions and session ids with transaction analytics and incorporate key trends to deliver quality software.
Sumo Logic DevOps Ecosystem