Gear Up For The Always-On, Modern IT
The Sumo Logic service helps transforms IT data into better customer experience and business decisions by extracting valuable information such as latencies, performance metrics, trends and critical events tied with core systems and services.
Monitor all Workloads
Monitor your complex workloads and migrations for errors, warnings, performance and availability across cloud and on-premises infrastructure stacks.
Troubleshoot and Increase Uptime
Quickly identify root cause of issues and increase uptime. Spend less time managing incidents and more time building innovative new IT services.
Simplify, Modernize, and Save Costs
Modernize your management stack with a SaaS solution designed for your dynamic environment and meet your needs for elastic scale and lower TCO.
Outlier & Predict
Detect outliers and abnormal behavior across your mission critical applications and services. Monitor multi-dimensional KPI's with dynamic thresholds and predict future events with linear predictive analysis.
Faster Time to Market with Pattern Recognition

Reduce mean time to identification by correlating logs across various data sources, lower false-positives and reduce hundreds of thousands of pages of results into a handful of meaningful patterns.
Comprehensive View with Transaction Analytics
Expedite root cause analysis by surfacing components of complex transactions across distributed environments. Visualize all contextual data sets to comprehend complex interactions in real-time.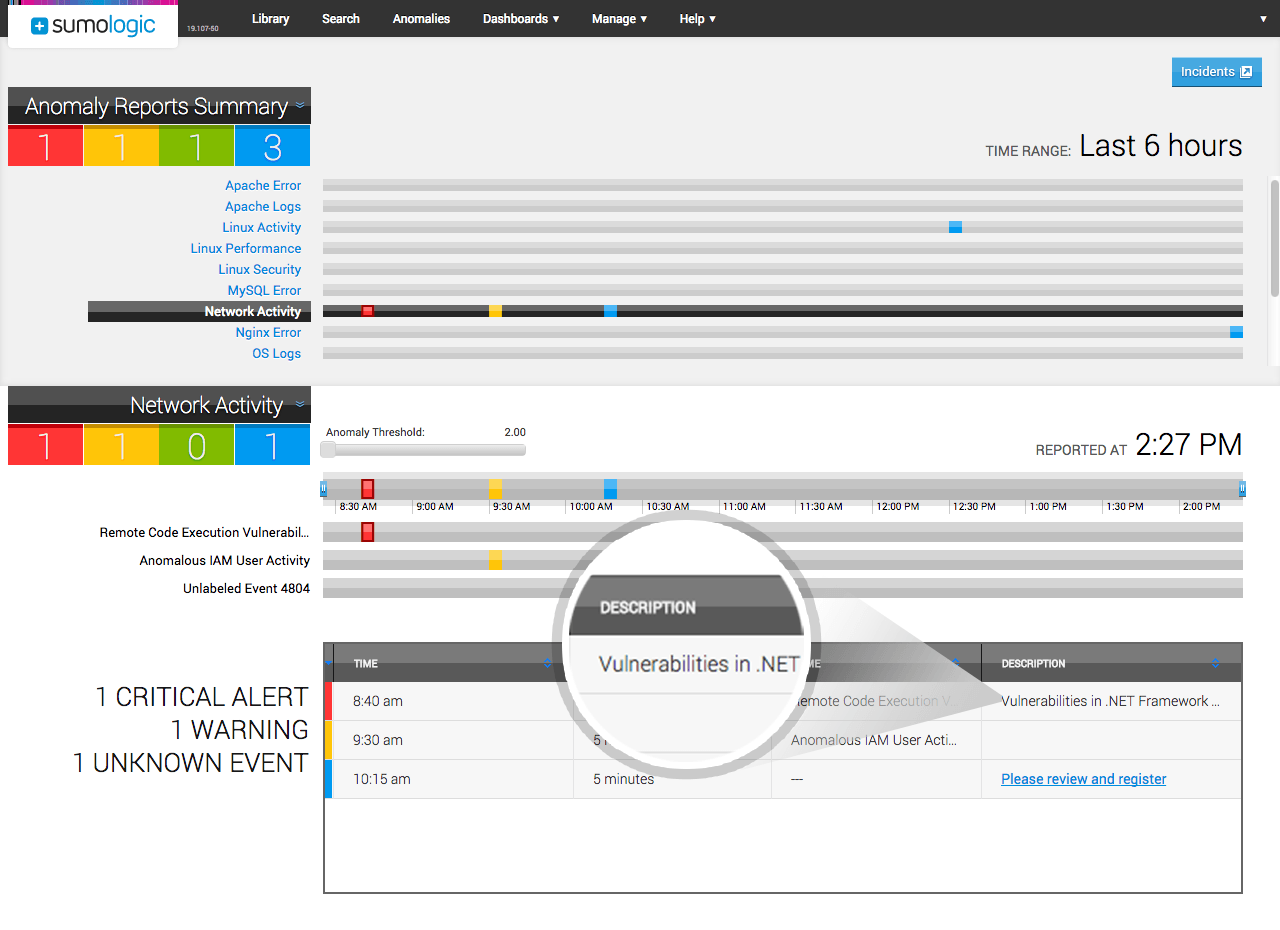 Monitor and Troubleshoot Across Your Full Stack
Centralize Data Streams Sumo Logic effortlessly and securely collects terabytes of data with lightweight collectors and API's, from any data source in your stack.
Complete Operations visibility Proactively monitor distributed and complex environments including new services and updates with LIVE dashboards and alerts. Determine baselines and identify outliers in real-time through a single query.
Boost Operational Efficiency Streamline incident management, improve reliability of all operations, analyze usage trends and meet SLA's and internal KPI's.
Think Beyond Rules to Detect and Predict Detect impending impact on services with Predictive Analytics rather than constantly restoring system failures and service outages.
Simplify, Modernize and Save Costs
Simplify Cloud Migrations and Management  Optimize your cloud provisioning strategy by getting visibility into operational status, errors, KPI's and usage metrics for cloud deployments and migrations.
Make Change Management effortless Streamline incident management by quickly discovering issues in new services or updates with Pattern and Anomaly Detection.
Reduce Cost and Complexity, Increase value  Sumo Logic's industry- leading effortless service can be set up in minutes with unparalleled scalability, automatic upgrades and best-in-class economics.
Deliver Delightful User Experiences
Improve End-User Satisfaction Reduce outages by detecting and resolving issues in real-time and improve user and business productivity.
Embrace Industry and User Trends Support industry trends such as BYOD and end-user introduced software such Box by streamlining, monitoring and securing the rollout of these services.
Influence Business Decisions Understand critical usage, customer and system trends and influence business, technology and investment decisions.
Sumo Logic IT Infrastructure and Operations Ecosystem