Are you suffering from swivel chair hell?
Everyone knows that logs and metrics represent two sides of application and infrastructure "machine data":
Metrics can provide your app and infrastructure KPI's like CPU, memory usage, latencies, SQL execution times etc.

Logs provide you context into application and infrastructure execution KPI's – errors, warnings, relevant events like configurations, etc.
So it's no wonder that integrating the two streams can provide incredible insights and help IT ensure the performance and health of their application and infrastructure. However, up until now, managing log and metrics has required disparate (or poorly integrated) solutions. The lack of common data, visualization and context creates many challenges, including:
Inefficient swivel chair management

High MTTI/MTTR because of poor troubleshooting context

High TCO with multiple tools

Limited DevOps collaboration etc.
If this is your problem, your life changes today ! Say hello to Sumo Logic's Unified Logs and Metrics solution.
Sumo Logic's Unified Logs and Metrics Solution
Today, Sumo Logic, the leading cloud-native, machine data analytics service, announced the general availability of Unified Logs and Metrics, the industry's first machine data analytics platform to natively ingest, index and analyze metrics and log data together in real-time. Powered by patented machine learning technology, Unified Logs and Metrics transforms structured and unstructured data into real-time continuous intelligence for today's modern applications and business insights.
Key capabilities of the solution include:
Out of the box support for AWS, infrastructure and applications metrics:

Sumo Logic offers support for Host Metrics such as CPU, memory, disk usage and AWS Cloudwatch metrics (from services like AWS Cloud Trail, Elastic Load Balancing, Amazon Kinesis, AWS Config, VPC Flow Logs and Amazon Simple Storage Service (S3)).

Easily extend support for custom apps and infrastructure:

The Sumo Logic platform supports the Graphite protocol support, which enables customers to easily extend collection and analysis to other app and infrastructure as well as custom metrics

Powerful Real-time Analytics for Troubleshooting

– through machine learning, Sumo Logic enables advanced analytics of logs data and metrics data for contextual troubleshooting and quicker root cause analysis of issues.

View logs and metrics in a unified dashboard :

Sumo logic enables users to view, filter and report logs and metrics in one dashboard to reduce "swivel chair" management and lower mean time to identify (MTTI) and resolve (MTTR) issues.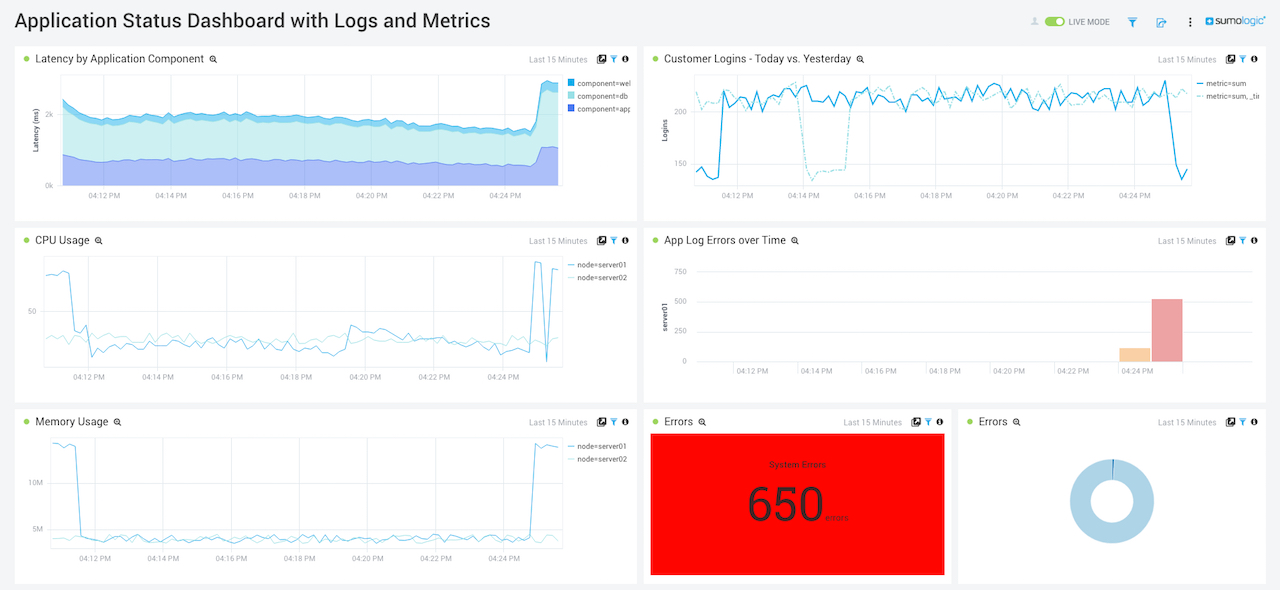 Benefits for customers
Sumo Logic customers have seen several benefits with the solution:
Improved customer experience by proactive management of application health

Faster performance troubleshooting with contextual analysis and dashboard of logs and metrics

Lowered total cost of ownership by eliminating multiple tools for logs and metrics analytics

Improved DevOps collaboration by providing a single source of truth that can be securely accessed and analyzed by IT OPs, DevOps and Dev teams.
As one early customer for ULM described it: "We have many (5+) disparate tools to monitor our cloud-based modern apps and infrastructures. It takes us hours to identify and troubleshoot issues currently and ULM will cut that to minutes"
Want to learn more?
If you are interested in learning how real-world customers are using this solution, attend our upcoming webinar, featuring Sumo Logic customers who will discuss how they are leveraging the Sumo Logic ULM platform to improve application health and management. Register at the following linksd: https://info.sumologic.com/Sumo-Logic-Unified-Logs-Metrics-Webinar.html