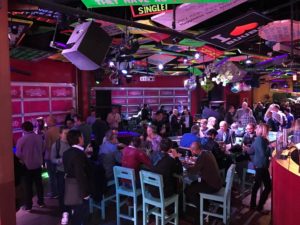 Wow, what a week last week at AWS re:Invent. I spent the weekend reflecting (and recovering) on the progress we have made in the market and how our great partners have impacted Sumo Logic's success.
Sumo Logic was born in the cloud and designed to help customers build, run and secure mission critical cloud applications. If you haven't already, I encourage you to read our "State of the Modern Applications" report. As we developed this report, we found it incredibly enlightening as have many others. The report highlights how wildly different the technology choice is for building these modern applications in the cloud versus traditional technologies used for on-premises application development.
This rise and increased adoption of cloud-native applications has heavily influenced Sumo Logic's partner ecosystem. We are very proud and honored to be partnered with the leading technologies used to build today's modern applications. We share a common vision with our partners to help customers accelerate their adoption of cloud more quickly and more safely.
So, together with MongoDB, Fastly, Pivotal, NGINX, CrowdStrike, Okta and Evident.IO, we decided to THROW A PARTY to celebrate the success we shared in 2016 and to kick off 2017 with a bang! We had well over 300 customers, partners, and people wanting to learn more at the event. It was a fantastic time, and I want to thank our partners for sponsoring and everyone who attended.
As I look to 2017, I couldn't be more excited to be at Sumo Logic and the tremendous opportunity that lies ahead for us and our incredible partners. We are just getting started together on this journey, and I am supremely optimistic about our future together.
Wishing you all a very happy holiday season and New Year!
Complete visibility for DevSecOps
Reduce downtime and move from reactive to proactive monitoring.
Categories
Sumo Logic cloud-native SaaS analytics
Build, run, and secure modern applications and cloud infrastructures.
Start free trial