Greetings" class="redactor-autoparser-object">https://www.sumologic.com/blog... Sumo Logic community members, today, we are pleased to announce the launch of the Sumo Logic Log Bible project.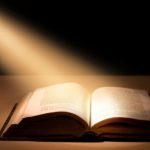 ** Put your log expertise to work and win $100! **
Log data contains a wealth of operational and security information, although it's not always as easy as you'd like to extract it. In an effort to help drive some insight into logging basics, and the different kinds of logs data out there, we are kicking off the Sumo Logic Ultimate Log Bible project.
The goal is to create a repository of log data reference materials that can be shared across our community of IT Operations, Developers and Security Professionals. And to do this we need your help. This will be a community-sourced project where the resulting deliverables will be an aggregation of all of our combined efforts.
We created the following taxonomy of technologies that generate log data. They are broken down into 11 categories, and 46 sub-categories as follows:
To help get things started, we have created the following 4 examples that can serve as templates for additional reference materials to be created:
As an incentive, we are offering a $100 Amazon or Starbucks gift card for community members who post log bible entries from the taxonomy list above (not including the ones already posted). In general, the documents added to the community topic should be about 2-3 pages in length and cover the following topic areas:
What is it
Key log files
Location of log files
Example log line(s) with explanations of what the entries mean
Source links back to Sumo Logic help (i.e. Windows logging points to help.sumologic.com/apps/windows_app)
How to Submit a New Log Reference to the Project
We are using the Sumo Logic Community, Sumo Dojo, to facilitate the Ultimate Log Bible project. Sumo Dojo enables the community to comment on, review and approve new entries.
To post your submission, do the following:
Log into Sumo Dojo using your Sumo Logic credentials.
Select Ultimate Log Bible from the Topics menu.
Click the POST button on the right to create a new Thread.

You should then see the following dialog box appear: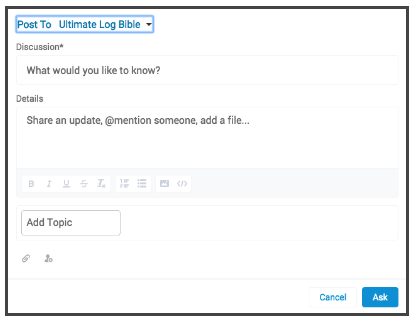 Under Discussion, enter the title of your Log entry. For example, if you're creating a new reference for Apache Server, enter "Apache Server Log Bible Reference"
Under Details, please use the rich-text editor to copy/paste your log reference information. You can also attach your document using the paperclip option (see icon bottom left). However it's best practice to do both.
Under Add Topic, please add the topic you are writing about (in this example, one would use Apache Server Logs).
Click the "Ask" button at the bottom of the form to submit your new Log reference to the project.
In the event you are unable to log into the community, you can email your log bible entry to log-bible@sumologic.com.
Next Steps
Once submitted, an internal team will review your submission and reach out with any comments or questions. We'll also coordinate delivery of your gift card.
We thank you in advance for your help and cooperation in this project that will benefit everyone.
https://www.sumologic.com/blog... class="at-below-post-recommended addthis_tool">