Why the Sumo Logic App for Fastly?

Optimize Content Delivery Network Performance
Sumo Logic's unified logs and metrics help you improve security posture, understand WAF activity, and measure quality of service for your CDN end users.

Identify Suspicious Behavior and Patterns
With the Sumo Logic App for Fastly, you can identify patterns and suspicious activities before they affect your applications or user experience.

Visualize Data in Ready-Made Dashboards
Get up and running in minutes with preconfigured searches and pre-made dashboards to help you make sense of your Fastly logs.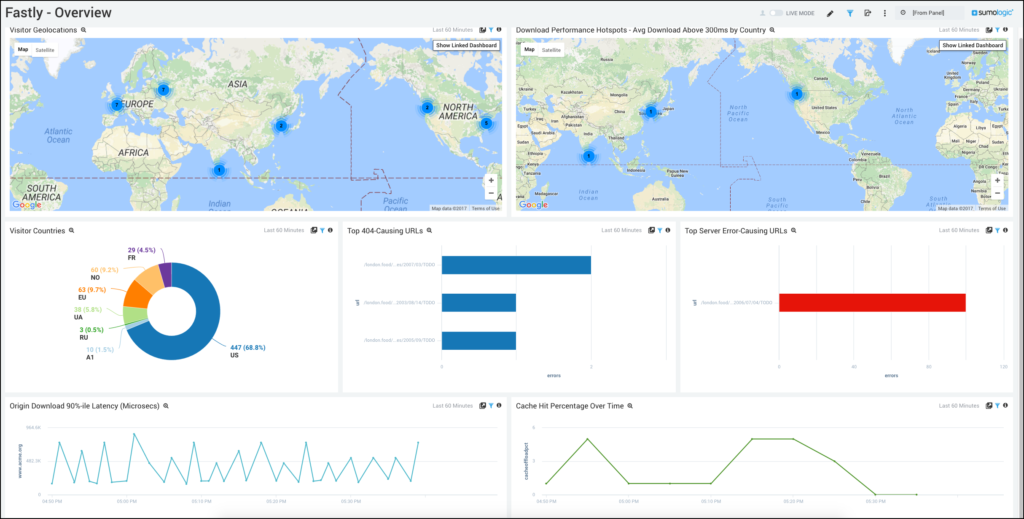 Improve App Availability, Performance, and User Experience
Content Delivery Networks like Fastly CDN enable enterprises to obtain a global infrastructure footprint and thus locate apps and websites near their end users. Fastly serves significant amount of traffic on behalf of their customers, and they also enable those customers to obtain detailed logs in real-time about that traffic through Fastly's edge cloud platform.
With the Sumo Logic App for Fastly, customers can analyze and correlate Fastly data with their origin data in order to improve availability and performance of applications, improve end-user experience, gain deeper user insights, and enforce rigorous security controls.
Get Deeper Insights to Improve Security Posture
The Sumo Logic App for Fastly delivers valuable user insights that help you improve quality of service and reduce application errors or downtime.
The Sumo Logic App for Fastly also improves security and compliance posture by:
Providing a deeper understanding of edge events
Correlating Fastly data sets with origin and other internal data sets to measure CDN performance and quality of service
Monitoring bot traffic
Identifying anomalies in user and request patterns
Demo: Troubleshooting Modern Apps With Unified Logs and Metrics
Sumo Logic's advanced analytics help you contextualize and correlate logs and time-series metrics, giving you the tools you need to find the needle in the haystack.
Other Sumo Apps
Sumo Logic Apps help you quickly gain visibility into your applications and infrastructure by providing preconfigured searches and dashboards for your most popular data sources.
See the full list