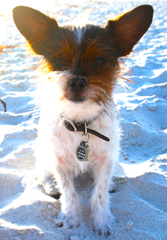 Today, we find ourselves in the exceptionally fortunate situation of being able to celebrate the second birthday of Sumo Logic. Companies obviously don't get created on a single day, but from the beginning, Kumar and I always thought that March 29th of 2010 was the real beginning of the life of this company. On this day two years ago, we agreed with Asheem Chandna on the terms under which Greylock Partners would invest into our vision as part of a Series A. This really is the singular point in time at which Sumo Logic became Sumo Logic. Well, technically, it was another couple of days, as we raced to actually incorporate the company as part of the closing of the financing 🙂 – And yes, we did get the termsheet at the Starbucks on Sand Hill Road, nervously sipping drip. Life really can work that way.
With the company officially having been born, we set out to find an office. There was never any question between Kumar and myself that we had to find something on Castro St. in Mountain View. We both live close by, and have enjoyed the coffee culture established by the well-known coffee shops Red Rock and Dana St during the process of getting the company off the ground. We also like to eat, sometimes too much, and again Mountain View's modest city center provides over 40 restaurants on Castro St. alone. And yes, they have Racer 5 on tab at Xhan's, at least most of the time, and that's clearly important as well, at least for yours truly. And finally, there's a Caltrain station. As silly as that sounds to me in particular, having used nothing but public transport where I grew up, this really is important to enable all the people we want to work with to actually get to work. We found a nice spot on top of the legendary Book Buyer's store, whose owner greeted us with a bow, and a hearty "Namaste" when we first ran into him. I think Kumar still hasn't digested that one.
When two techies start a company, it is important to counterbalance their natural tendencies with a strong personality on the product side, and we were again very lucky in finding Bruno, who has been our founding VP Product and Strategy since inception. And Sumo Logic isn't Bruno's only baby – days after he started, his wife gave birth to twins. We have no idea whether Bruno has ever slept since then 🙂 – on the technical side, we quickly ramped up hiring, reaching back to friends we have worked with before, as well as a whole new set of people who have become friends quickly. Domingo, our VP Engineering, completed the executive team when joining in March 2011, and quickly started applying his experience towards realizing our goal of agile development and continuous delivery.
After spending many hours talking to prospects and building the foundation of the underlying scalable architecture, we managed to get a couple of potential customers onto a beta version of the Sumo Logic service in May 2011. The feedback of the early folks has been tremendously useful, and with their generous help, we continued pushing towards a public release of the Sumo Logic service, which happened in January 2012. We have since seen the first checks, written by people who are using Sumo Logic in production, where it solves real problems for them! The very first such check is pinned onto the wall of the kitchen in our office, along with a calculation of how many bottles of Pliny the Elder we could buy with it. Let me assure you, it's a borderline unhealthy amount! 🙂
While working on getting the service ready for public launch, two more important things happened. Firstly, we outgrew our initial office, and had to go look for new digs. If you are familiar with the commercial real-estate situation in Mountain View, you will shudder to think of this. But luckily, we found our current building, lovingly dubbed the Sumo Towers, on 605 Castro St., allowing us to stay put in downtown Mountain View. We managed to give the place a whole new coat of paint on the inside, after blowing out every wall we could possible take away without the whole building collapsing, so it's a really open and cozy place. The building also has a great retro look from the sixties, with this weird metal shielding applied to the outside of the second floor, apparently to shield the poor engineers living there from the sunlight. I still have this silly grin on my face when walking by on the way back from dinner at Shabu Way, when it's dark, and the second floor of the building is lit, with Sumos hacking away.
The other major company milestone happened to be our raising of more money as part of a Series B investment. We literally prepared this for months, with major help by way of Asheem's incredibly useful feedback (pro tip: when you need to build an investor deck, get someone who's an investor to help you, and _listen_ to them). The result of all the preparation was that we went from first investor pitch to handshake termsheet in only 54 hours. I am still at times scraping parts of my mind off the wall when thinking about this. The interest that our little company got from investors was just unbelievable, and deeply satisfying at the same time. We are extremely blessed to have Mike Speiser from Sutter Hill Ventures lead the Series B and joining our board successively.
So here we are, two years in. The company that was named after a little rescue dog that was once found shivering in the night box of the Monterey shelter has entered the public spotlight and is not a puppy anymore by a long shot. As excited as I am of having been part of the story so far, I can barely contain myself when thinking of the stuff we have in the hopper, both as far as the product is concerned, but also when thinking of the amazing people we are talking to and who are planning to join the company soon. Who knows what's going to happen in the next two years – all I know is that we are going to ride it hard and honest all the way, creating value for our customers and having fun building our company into a successful business with an enviable culture.