Sumo Logic empowers DevOps teams with a simple and scalable solution for monitoring KPI's and metrics across the entire stack to deliver quality software.
Streamline Continuous Delivery
Scale on-demand, share the same truth about critical issues, trends and opportunities across the application stack and DevOps tool chain to accelerate releases and improve code.
Monitor KPI's and Metrics
Keep tabs on KPI's in rapid development and production environments. Improve both code and uptime by monitoring run time issues, exceptions and performance SLA's.
Accelerate Troubleshooting
Spend less time troubleshooting and more time developing code. Quickly collaborate for root cause analysis of bugs and fix performance issues before they impact customers.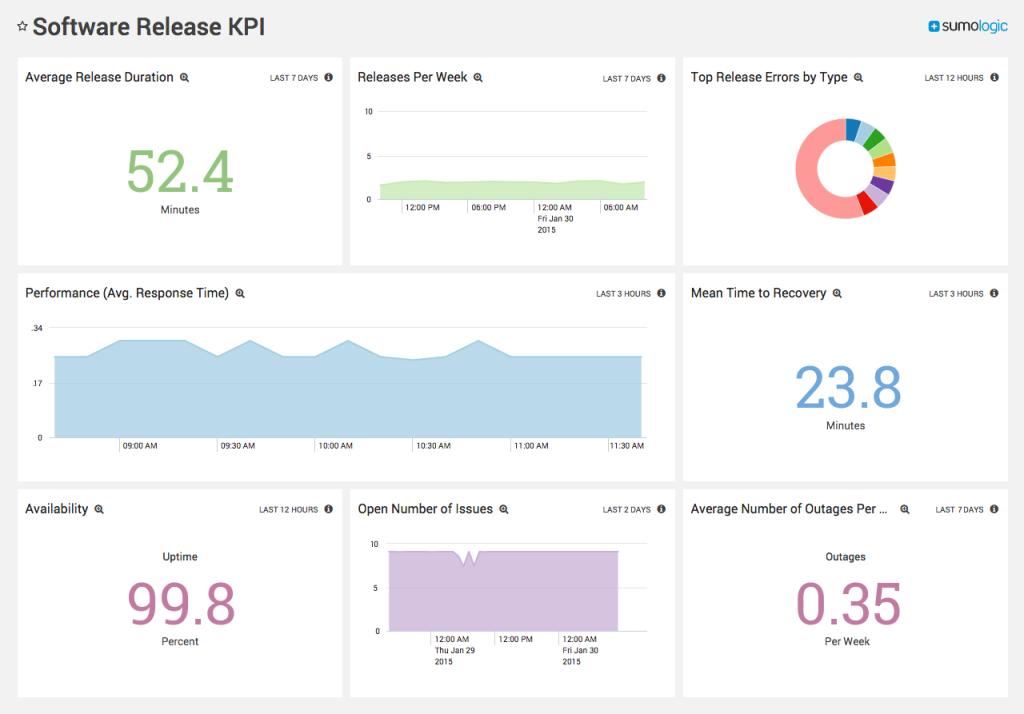 Visibility Across the Application Stack
Effortless Data Collection Sumo Logic can effortlessly collect terabytes of data from any data source across your stack and your DevOps tool chain. Lightweight collectors and cloud API's replace traditional complex setups and encrypt all data for secure transfer.
End-to-End Visibility Visibility across the application stack helps track KPI's, performance SLA's and compliance through hybrid, staging and production environments.
Collaborative Dashboards  Development, QA and Operation teams can collaborate with real-time dashboards through release cycles and beyond to quickly identify problem areas and where accountability lies.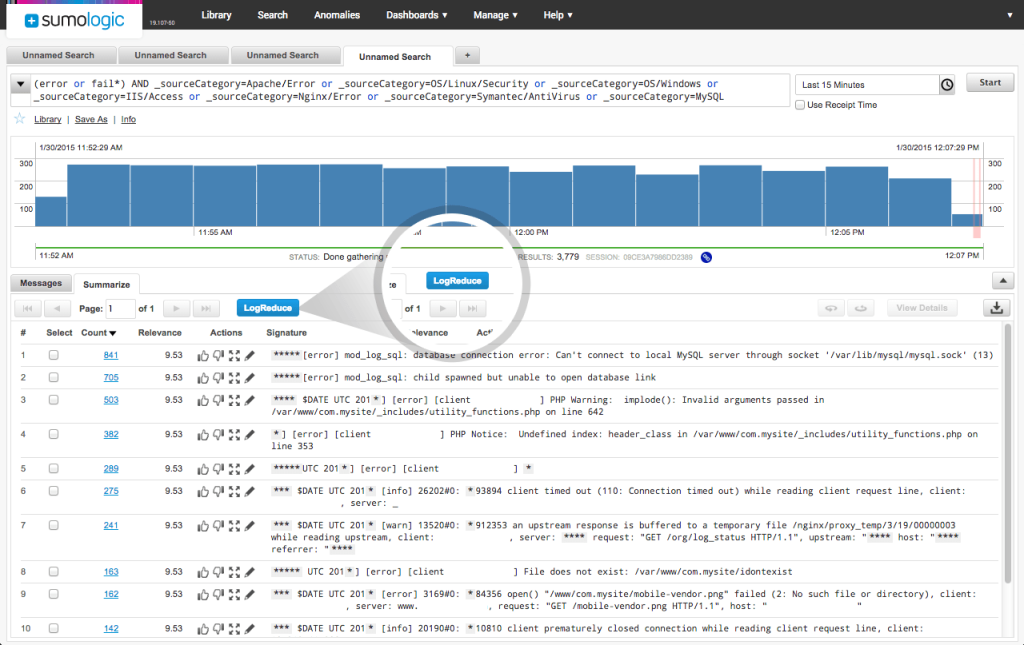 Real-time Monitoring, Troubleshooting and Root Cause Analysis
Visualize and Monitor Real-time dashboards and alerts provide visibility into application performance, errors and impact of deployments. A shared view improves transparency and delegation of bugs.
Simplify Troubleshooting, Improve Code Quickly identify issues with Pattern, Anomaly and Outlier Detection. Isolate the application node or module where the root cause of the problem hides to troubleshoot bugs and performance issues.
Increase Uptime Evaluate the impact of new releases on the stability of the entire application and its related stack. Predict, identify and correlate issues, track throughput and meet SLA's by identifying performance issues before they hit customers.
Analytics Driven Development
End user Satisfaction Track application performance and identify issues, reduce the number of support tickets and quickly troubleshoot to expedite their remediation. Predictive analytics predicts future KPI violations and abnormal behaviors through a linear projection model before they impact your customers.
Continuous Innovation Track user and system behavior including activity, errors, transactions and session ids with Transaction Analytics and incorporate key trends to deliver quality software.
Sumo Logic DevOps Ecosystem